G-collection PURPLE Gizaemon – G-collection PURPLE 義左衛門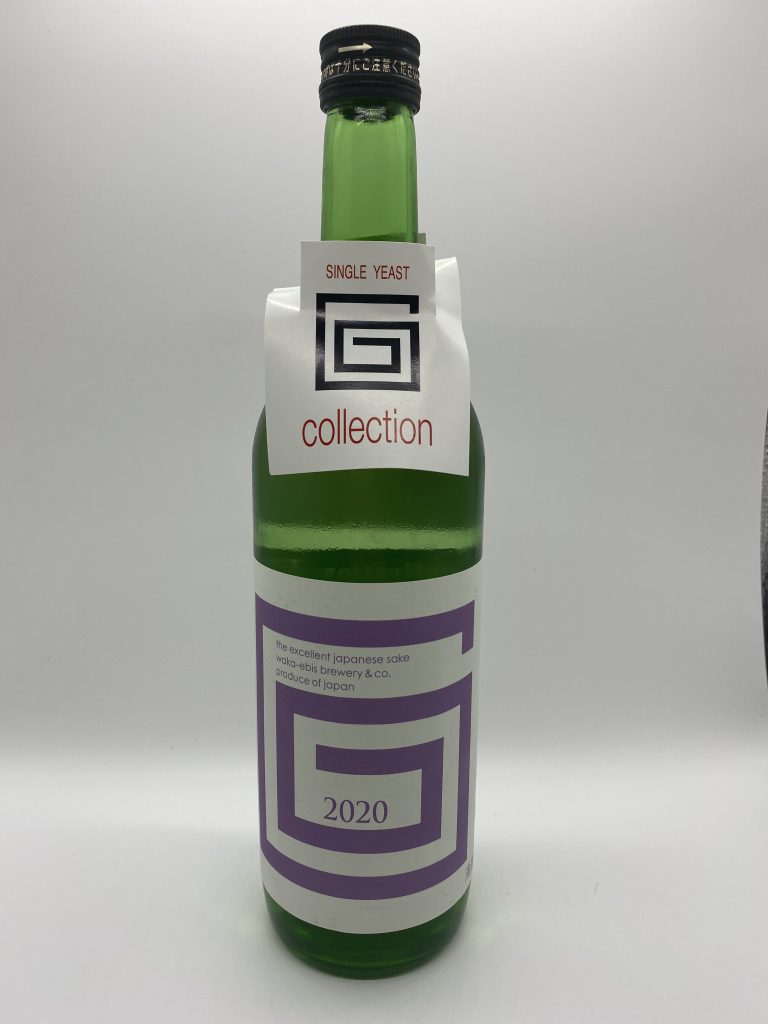 This is the challenge tank in this year at Waka Ebisu Shuzo, the challenges at this tank(bottle) is the sake yeast.
In the fact, Mie prefecture has invested Sake industry for long years enough to develop original sake yeast since 2014. Followings are the original sake yeast developed by the Mie Industrial Research Institute.
MK-1 : having a smell of bananas.
MLA-12 : For low-alcohol sake.
MK-3 : having a smell of apple.
MK-5 : To produce much of succinic acid which tastes umami (savory)
MK-7 : To produce succinic acid the most in yeasts in Japan, the taste become more sour and like wine. Also having a smell of apple.
The bottle of G-collection PURPLE Gizaemon is one of "Single yeast" series which can feel of yeast as only one yeast is used to produce the bottle.
SO this sake is made by MK-7 sake yeast, and this yeast and the bottle is which is the most ambitious and aiming and proposing the new taste of sake which is more rich and like full body wine.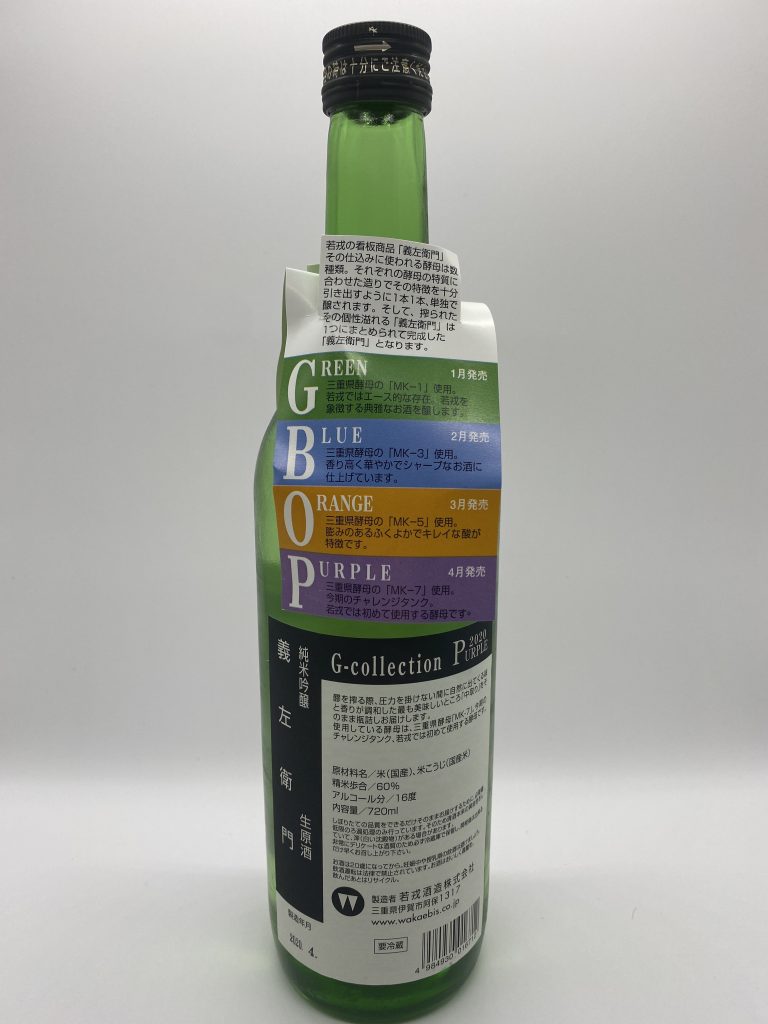 Taste : Rich and Dry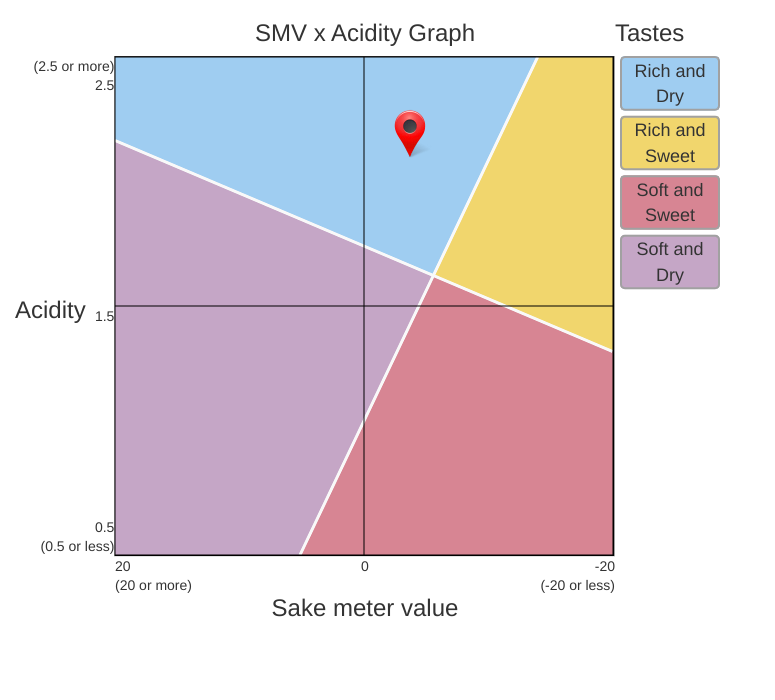 This is categorized rich and dry by SMV x Acidity Graph by specification, also as this is bottled as live without fire pasteurization, so you would feel light sparkling with it.
The taste is rich, a little sweet, and feel fresh sour, smell like a melon, aftertaste is a little strong.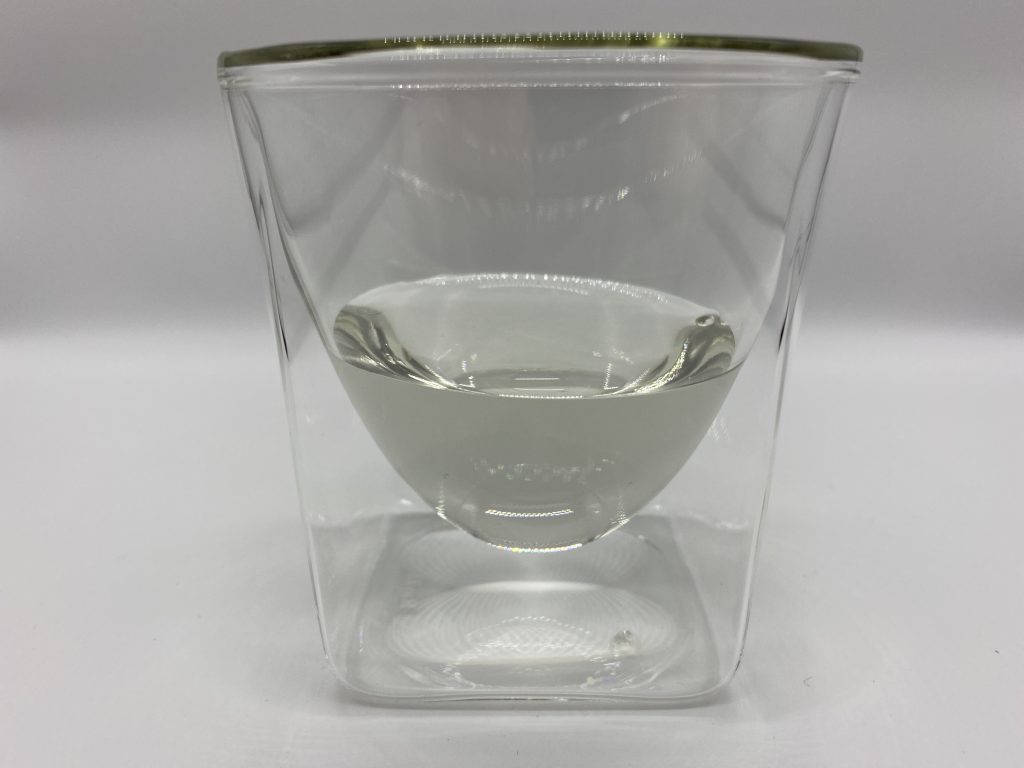 About brewery: Waka Ebisu Shuzo – 若戎酒造
Waka Ebisu Shuzo is established since 1853 and located at Iga(伊賀) where one of the most famous ninja village was in. Also they has provided sake to Ise Shima G7 Summit in 2016.
The underground water of Aoyama plateau, and rice produced in Iga are used for making sake. One of the characteristics is that they are doing rice polishing by themselves.
Wakaebisu and Gizaemon are the representative brands at this brewery, also Gizaemon is named by the name of brewery founder.
Detail of the bottle
Rating
The place of production
Mie Prefecture
Specification
Sake Meter Value
-3.7
Acidity
2.1
Amino Acid Content
1.7
Alcohol content
16%
Rice-polishing rate
60%
Classification
Junmai Ginjo Shu (純米吟醸酒)
Pasteurization and Pressing
Live bottled, Nakagumi(Middle)
Sake yeast
MK-7, Mie
Temp to drink
Chilled
Room temp
Hot
Brewery site
Web site
Order online
Rakuten shop