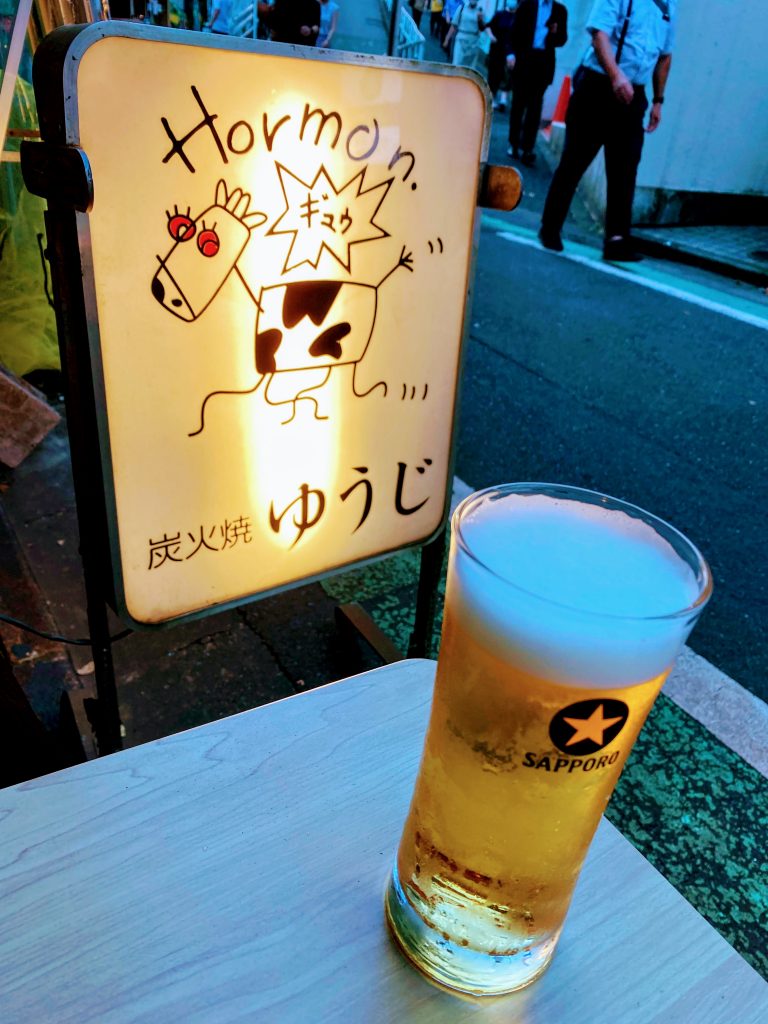 Hormon Yuuji is one of the legendary yakiniku restaurant in Tokyo, same as stamina-en in east tokyo. Even this yakiniku restaurant is classic style, a little smoky inside but here is very demanded that it is lucky if you could make reservation within a month.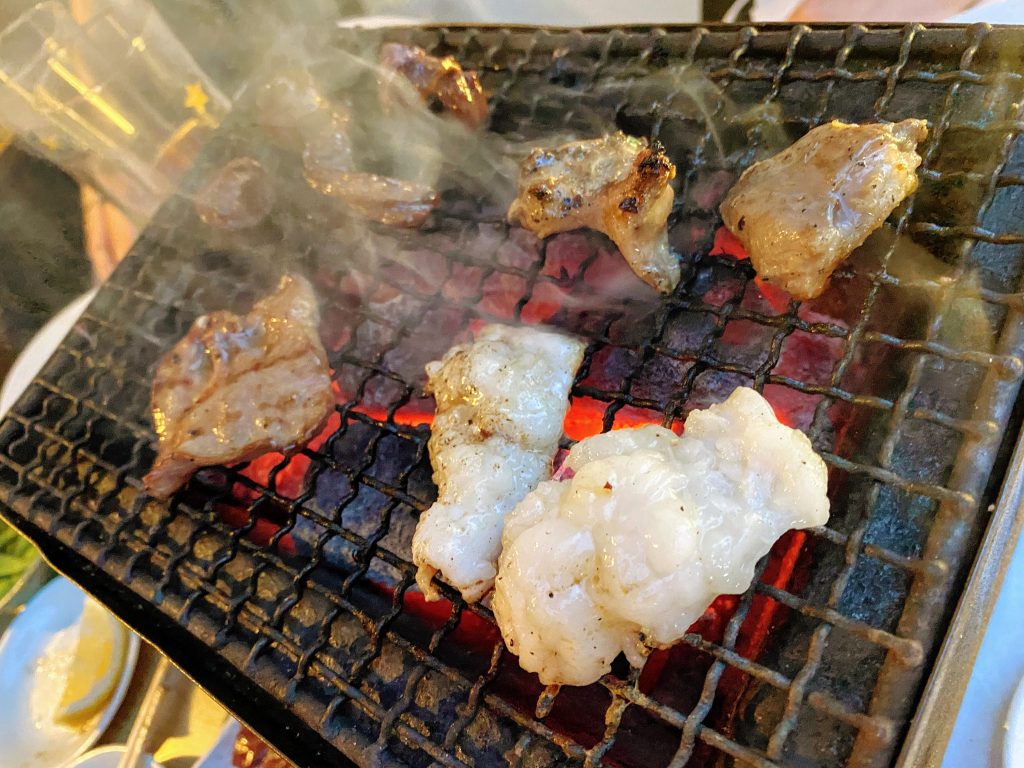 Hormon is a Japanese word which means offal meats, so especially offal meats are great, not only freshness, but also every offal meats are seasoned best by different way based on the parts.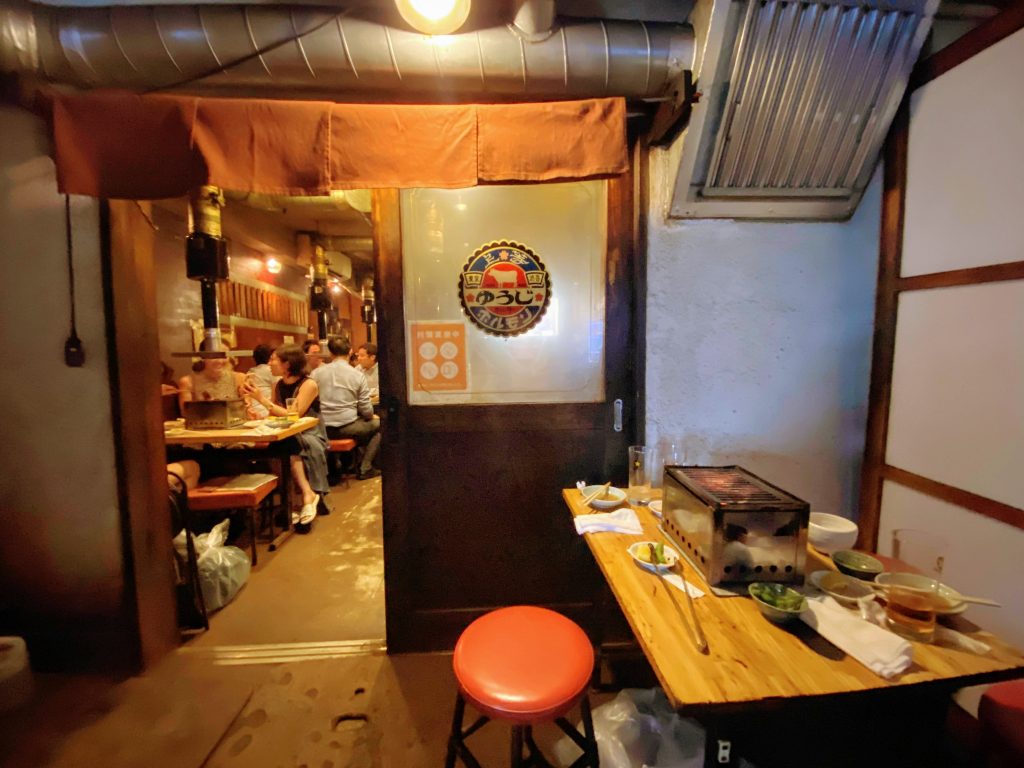 Must order
There are simple menu like follows, but there is many daily special menu which is not written in menu, so it is better to ask staff about recommendation. Also if you would become regular customer they would offer "Special" menu with surprise.
Everything is very delicious, however, my recommendation is to chose 1 offal sashimi, 3 – 4 offal meats, and 1 – 2 red meat or as much as you can eat!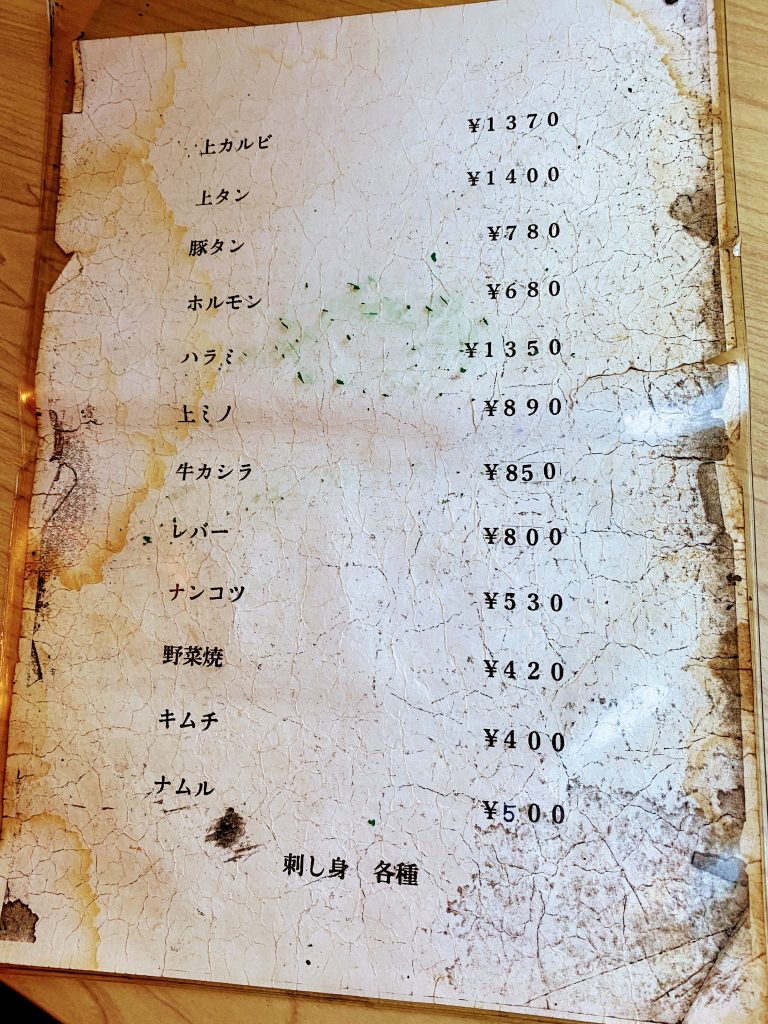 Sashimi style offal meats
Heart / ハツ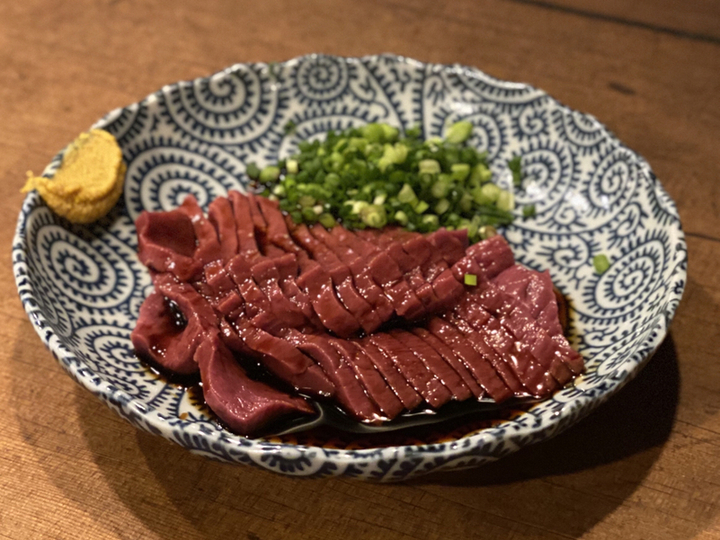 Signature* The texture of meat is very silky, the taste of meat is simple but feeling fresh and rich meat taste. The sauce is a little sweet. As this meat is very rare, must order if it is available.
Offal meats
If you come this restaurant, you must enjoy offal meats, every meat are seasoned by different way, also a sauce as follow is severed, so you can eat them with the sauce, but at fist you eat them without sauce is recommended.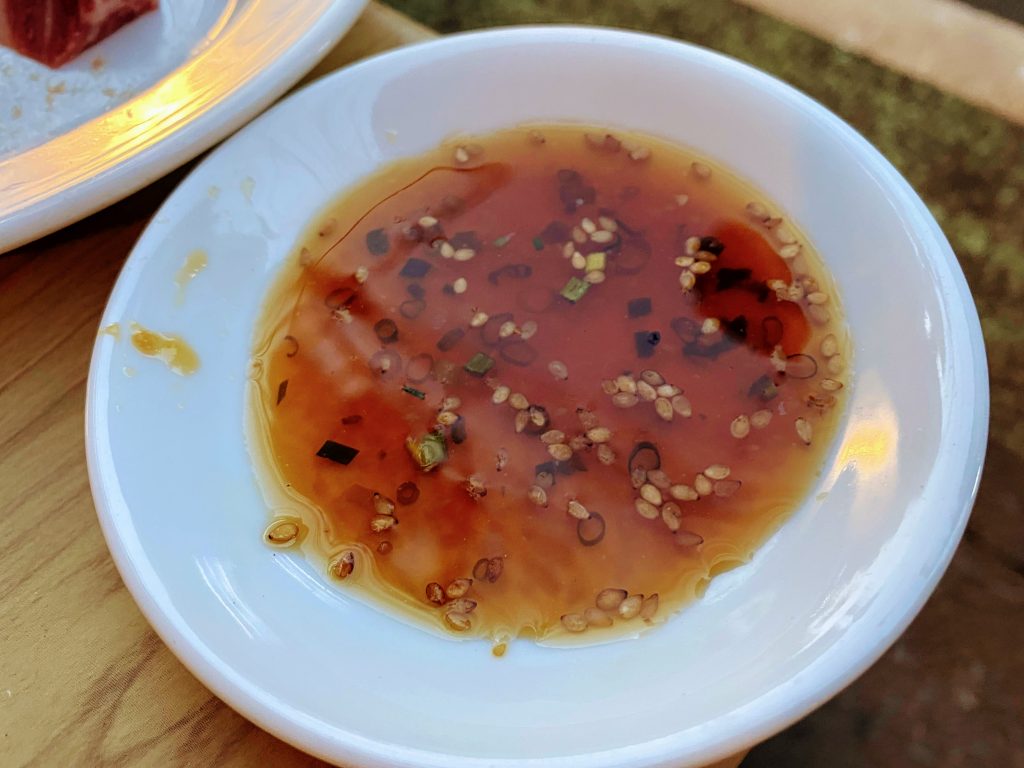 Special tongue / 上タン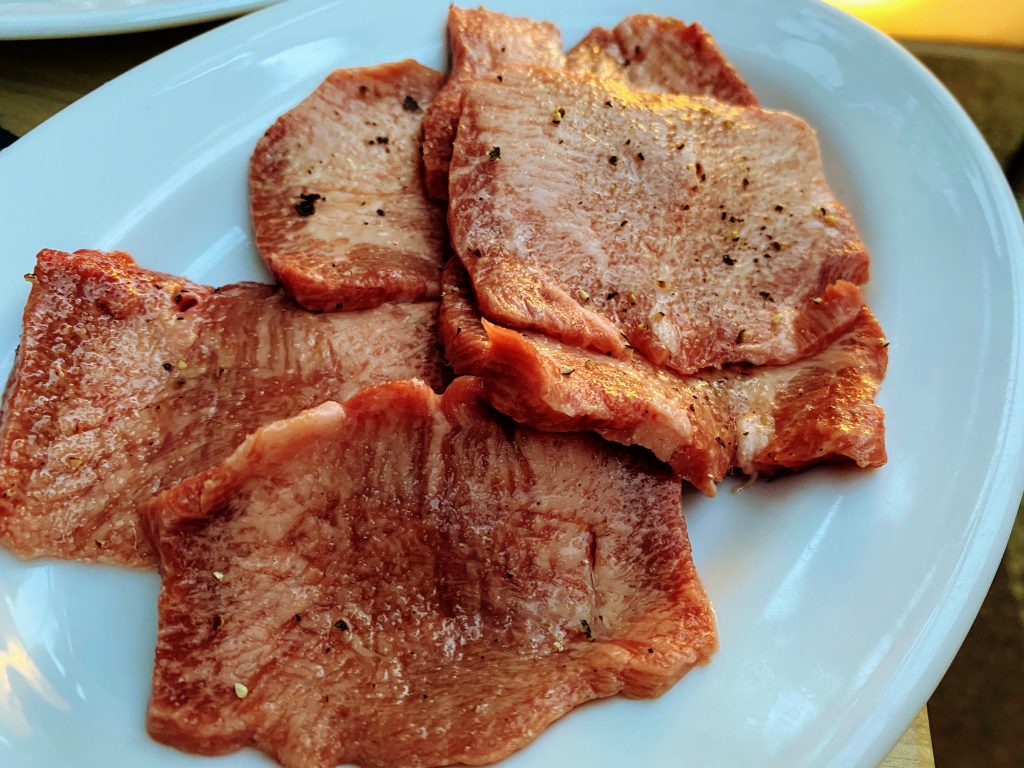 The tongue is not only fresh and meat quality is high, but also the way of seasoned is great, well balanced saltiness, and texture of meat is very chewy.
Liver / レバー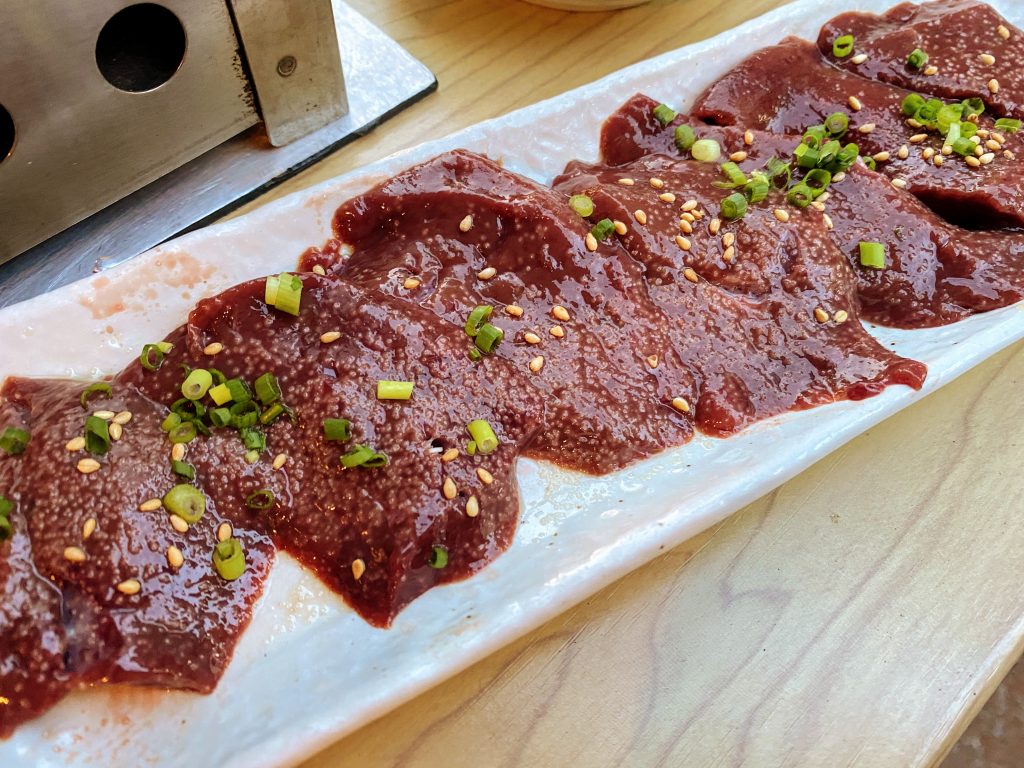 Signature* this liver is very fresh, and blight as ruby. The texture of meat is very silky and taste is very rich and deep. Like classic style eat with great flavor of sesame oil.
As liver itself is very fresh and no gamy smell, just grilled slightly (just after get the color changed)
Outside skirt / ハラミ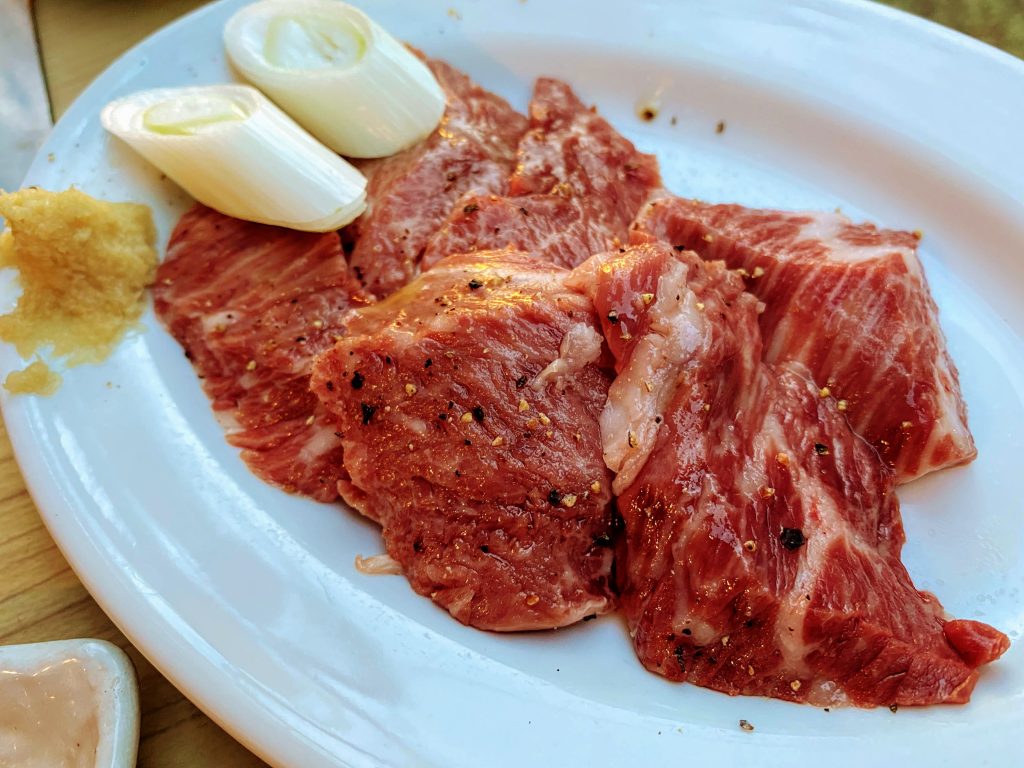 The outside skirt is very thick, also once bite them rich meat juice would be spread out in your mouth. Simply eat them with soy sauce and ginger, but as meat taste is very rich, this would be enough.
large intestine / ホルモン(シマチョウ)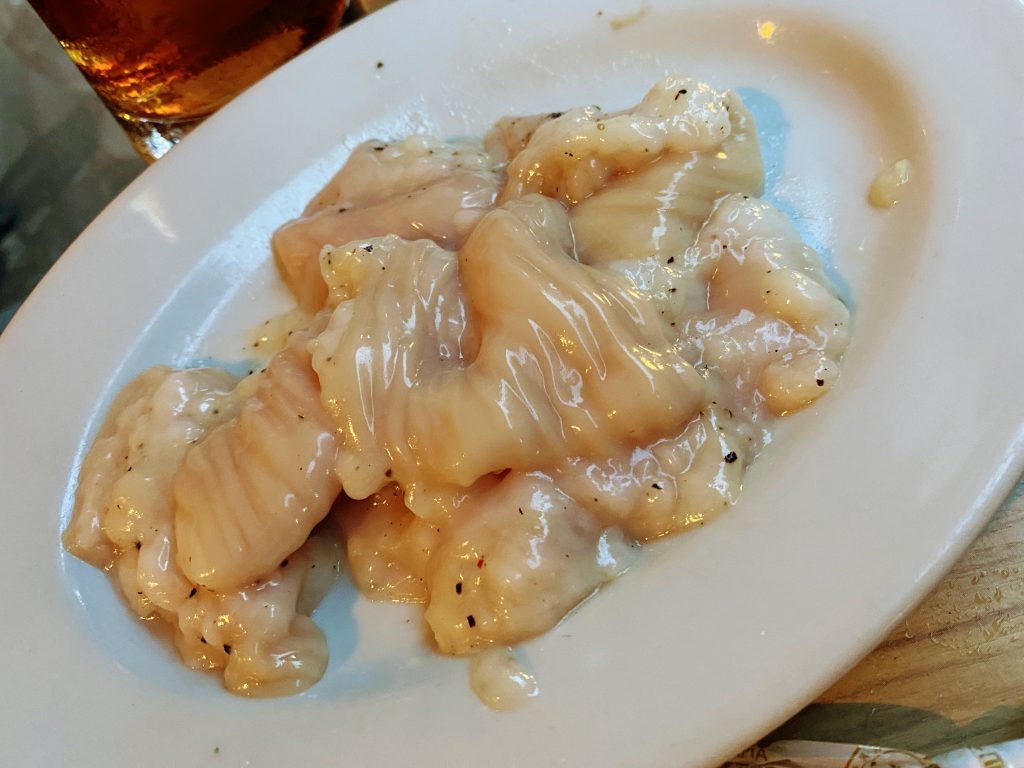 Typically large intestine is very oily and hard to bite, but the one here are even still feeling good fat oil, but not too much and feeling sweet, also not too hard. Also the way of seasoning by salt is simple but great balance between original taste of meat and salt, savory.
Small intestine (Kopuchan) / コプチャン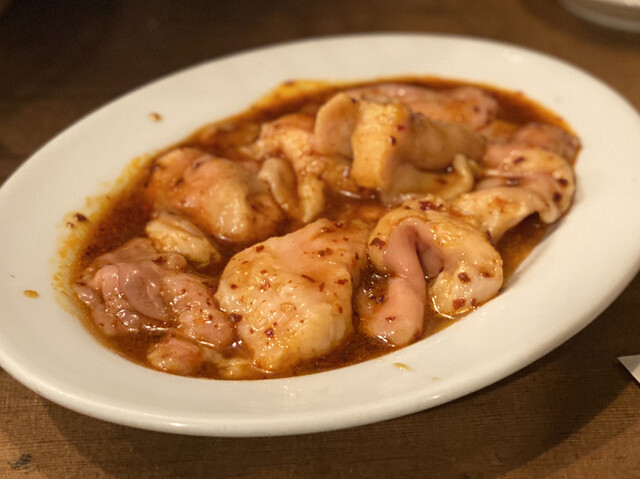 Comparing with large intestine, this part is more contains fat and less chewy texture, so the taste is a little heavy, but feeling more strong sweetness of its fat.
Also the way of seasoning is different, for this portion, miso base and contains slightly spiciness. Similar portions, but totally different taste.
Sinew of heart / ハツスジ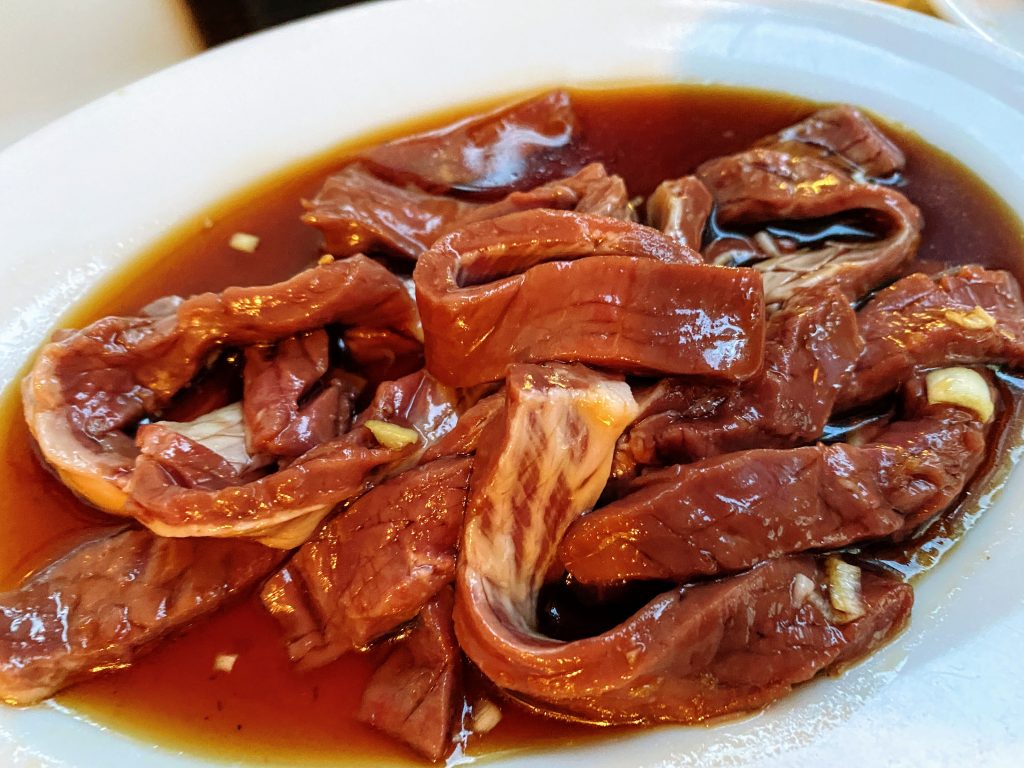 Beef heart is softer, less muscle fiber, not oily, contains many vitamins, so not only delicious but also good for your health.
Not too simple, but feeling great meat taste like fillet meat.
Third stomach / センマイ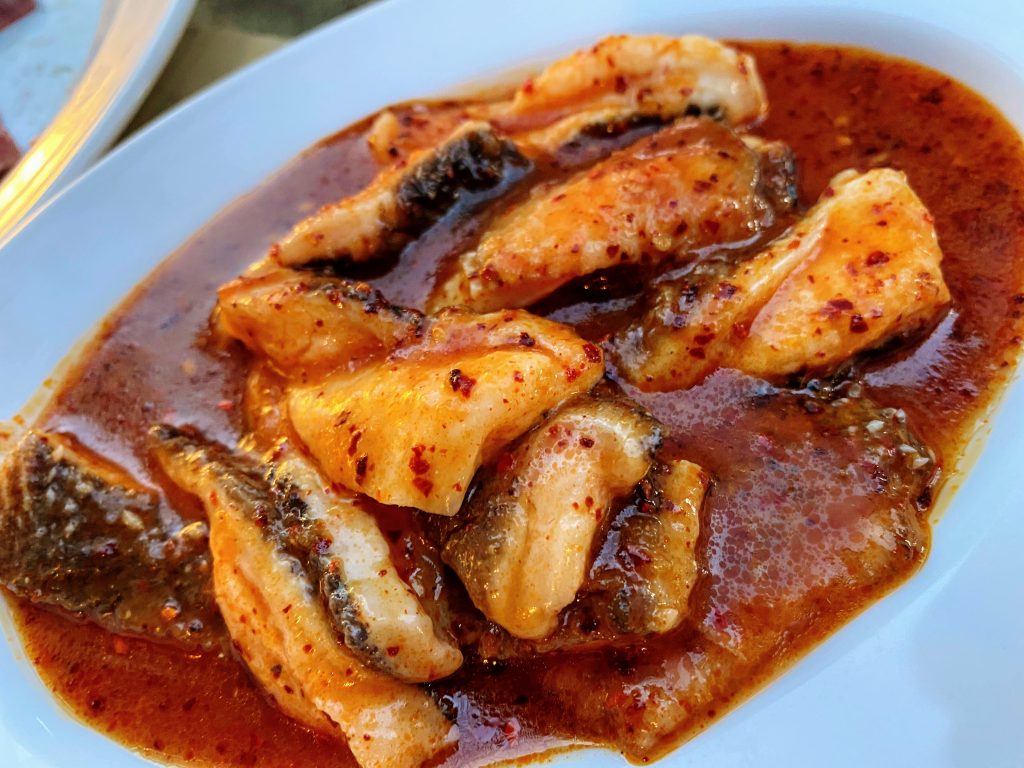 Third stomach is a part with chewy texture, not so oily.
Red meats
If you order red meats, they would serve after offal meats, also to change the net for roast to thick one.
Coming with beef fat, which is used to coat oil to the net before start grill the red meat like sukiyaki.
Also for red meat, grated radish is served, and it would be good combination with oily red meat that would decrease oil in your mouth.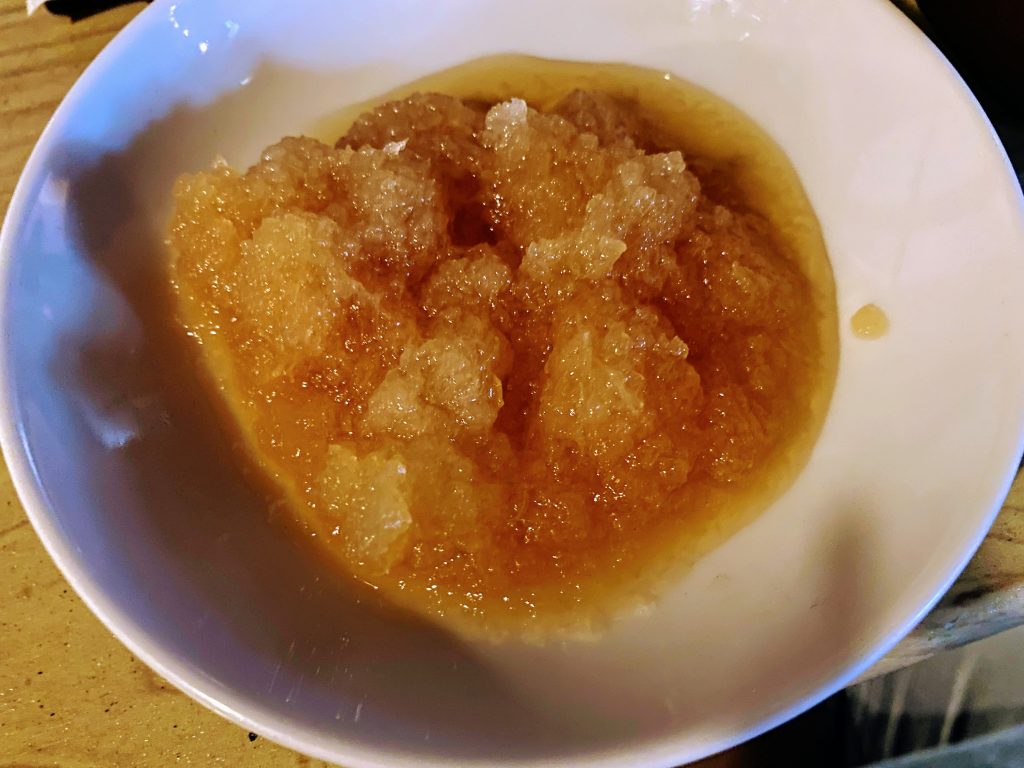 Chuck flap / ザブトン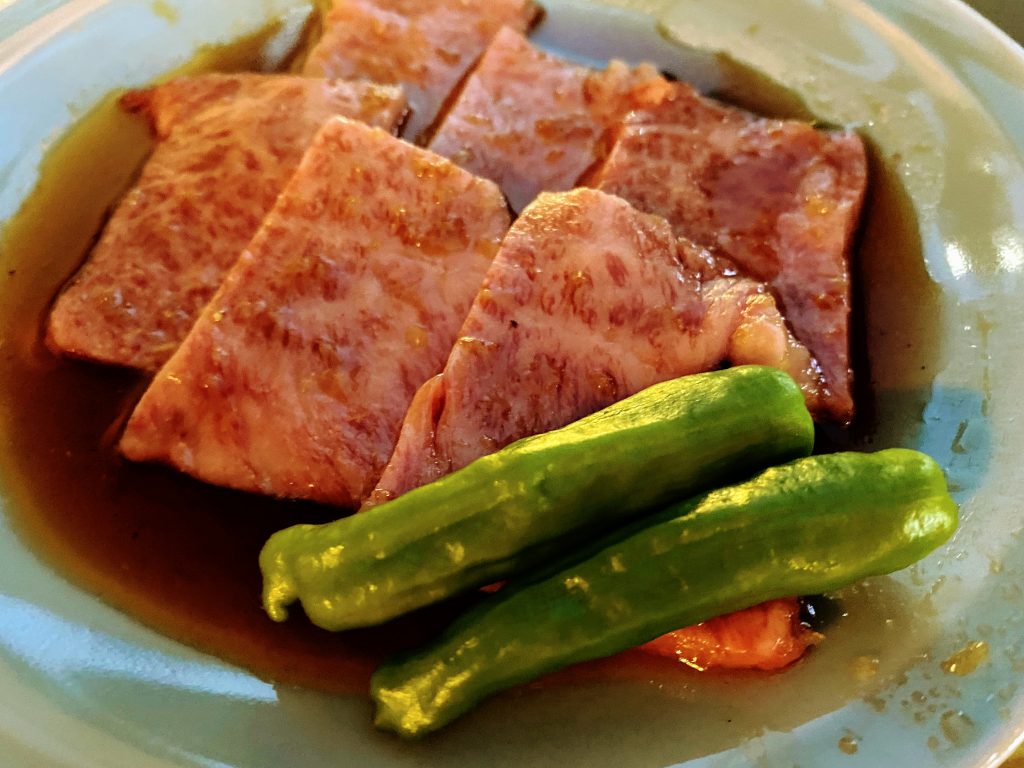 This is a part of shoulder, and this part contains fat and marveled the most.
Feeling great fat sweetness and red meat juice.
Top blade / ミスジ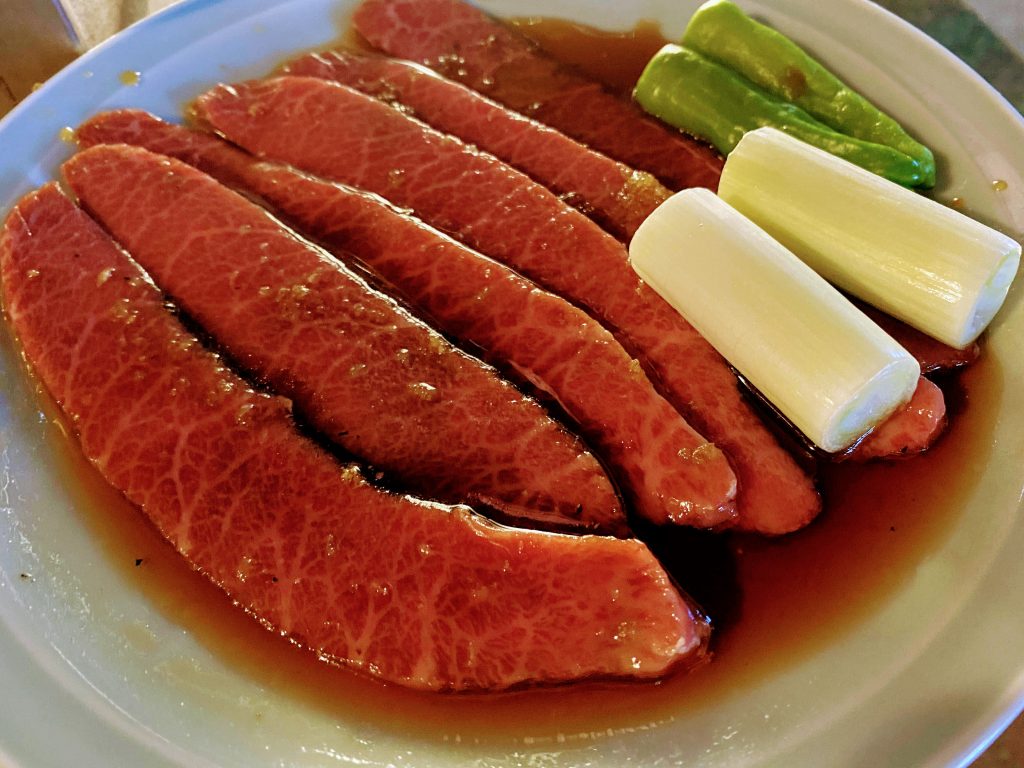 This portion is only 2kg from one cow, contain gelatin texture and rich and strong red meat taste, yummy.
Apetizer
Kimuchi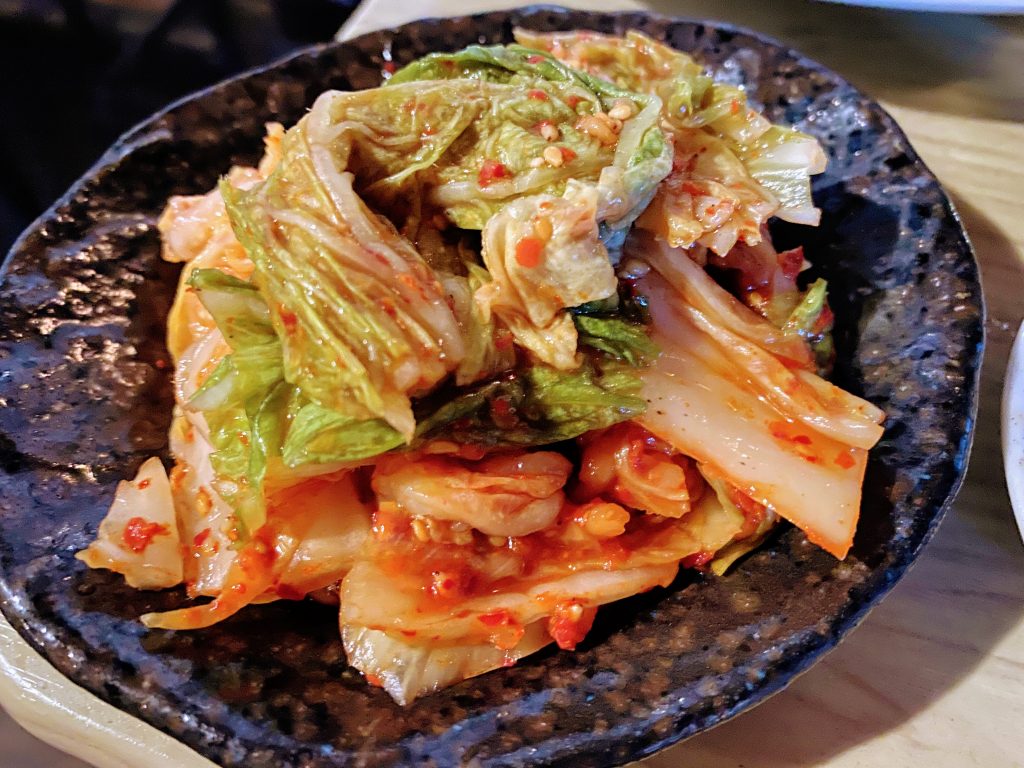 Kimuchi is one of indicator of good yakiniku restaurant. The one here is also wonderfull. The kimuchi is very fresh and feeling a little sour, this good to refresh your mouth with heavy meat taste.
Also inside, there are small radish wish rich and strong taste like yellow pickled radish(Takuwan), with this portion, the taste become more rich and deeper.
Restaurant detail
Food rating

A restaurant worth a special journey, indicating exceptional cuisine where diners eat extremely well, often superbly. Distinctive dishes are precisely executed, using superlative ingredients.
Budget

¥6,000~¥8,000
English
friendliness

There is no english menu here, foreigner sometimes come here.
Reservation
or queue

You can make reservation by calling, it is better to make reservation one or two month advance.
Payment by
Only Cash
Site and SNS
Web site
Any other detail
Information on Google Map