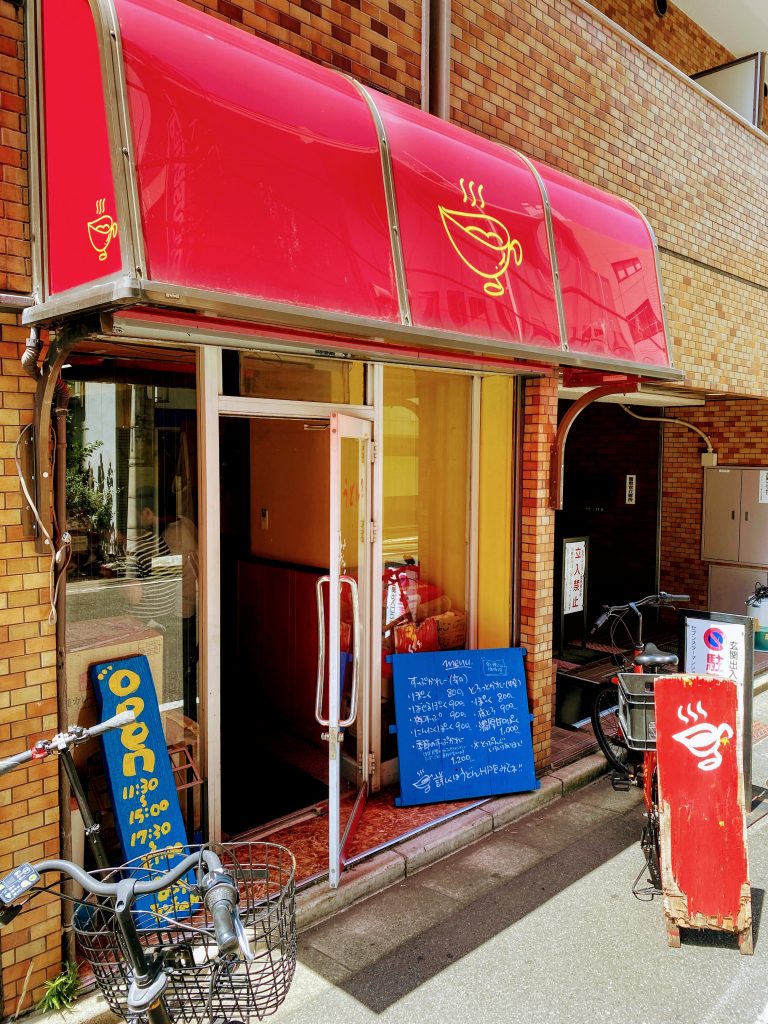 Typically soup curry is known as one of a dish in Hokkaido, but a soup curry here is not inheriting a way of Hokkaido soup curry, the one here is the one and only as his established this style before he know the Hokkaido style soup curry.
The concept of soup curry is very unique, according to the restaurant web site, the curry set is like a miso soup and rice set like typical Japanese meal set, so the soup curry here is very light and no much oil. Also spices has been taken out after the cook, so even the soup is spicy, but the taste is well balanced and you can make it empty.
One tips for the name of restaurant, as you may know that "Udon" is name of Japanese noodle, but there are no noodle meals here, the reason for this naming is before the open the restaurant the owner chef had asked to his little nephew that "What's the name would you like to name to my restaurant?", and he answered "Udon!" as his nephew had confused about just curry udon, but it has been named as Udon already 🙂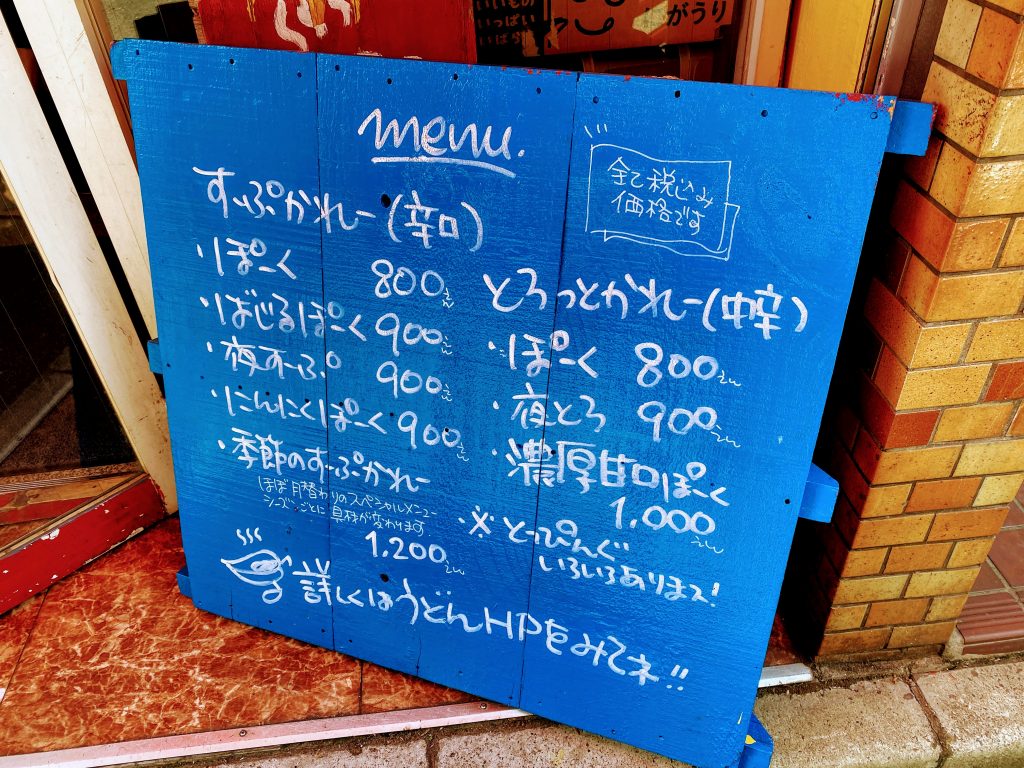 Things mus you know
This restaurant is running by 1 person; the owner chef. And as he need to focus to cook the best and seeking a timing to take care of customers. Following is the tips to come to this restaurant.
Take a seat and wait until the owner chef would bring a cup of water and ask you the order. Don't ask him while he is cooking.
When you finish your meal, bring the dished to the upper shelf, and tell "Gochisou sama desita" to inform him to ask payment. But again wait until he would come to your table.
Especially for soup curry, eat rice and soup separately for curry and rice, don't mix them like other soup curry way. with this way you can taste each soup and rice individually.
To mix the soup curry before eat, so that you would taste the spices more.
For dinner time, the shop might be close early after 19:30 when rice stocks are finished. It is better to call him to reserve rice if you come after 19:30.
Finish everything, better not to leave the rice, you can choose small rice portion.
Please understand the effort which is running the restaurant alone with fully cooking the curry best, please support him.
Also if you can read Japanese, please visit his web site and blog, you can feel his passion for the curry more.
Must order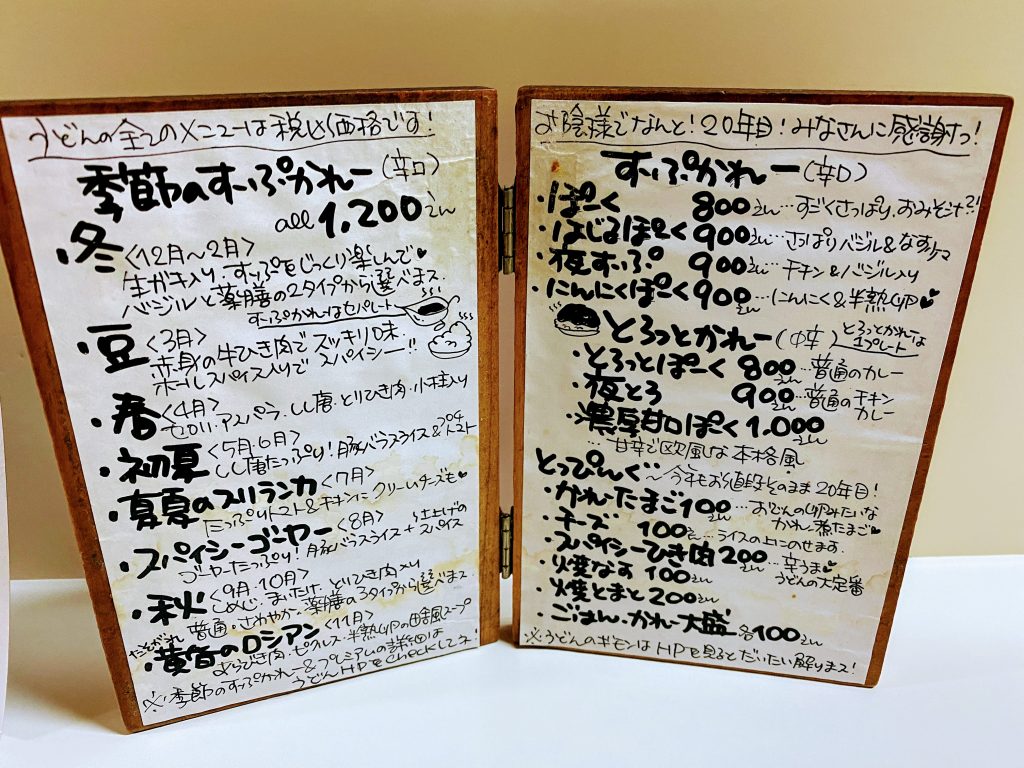 There are three major options for you to order, and there are many topping as follows. The prices are not updated in 20 years history.
Curry

Soup curry – 800 to 900 yen
Seasonal soup curry – 1200 yen
Torotto curry(A typical Japanese curry) – 800 to 1000 yen

Options

Curry seasoned boiled egg – 100 yen
Cheese – 100 yen
Spicy minced meat – 200 yen
Grilled egg plant – 100 yen
Grilled tomato – 200 yen
Rice or curry upsize – 100 yen for each
Even to find your own choices are one of enjoyable things here, but my recommendation is to try the most unique curry which you can not find other place.
Yoru soup curry (Basil and chicken curry with garlic) / 夜すーぷ – 900 yen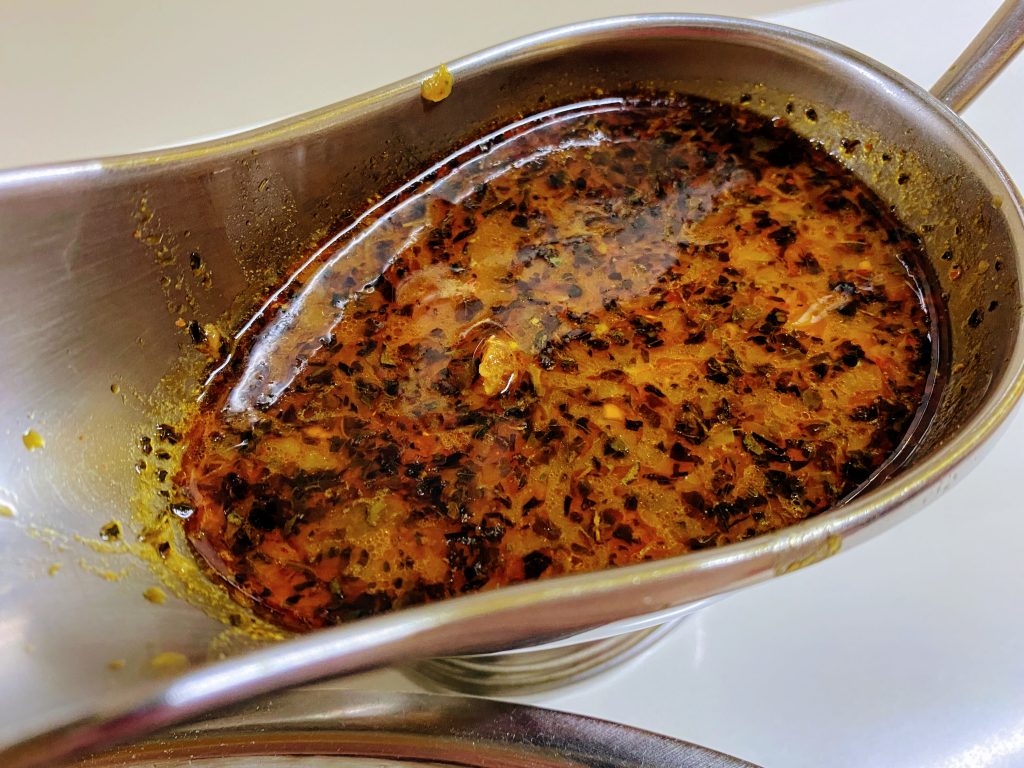 The yoru soup curry means night soup curry, the reason of this name is this curry contains many garlic, so because of smell of garlic, it is better to eat this curry at night, of course you can order lunch time.
The soup is very light and fresh, but the spice is very strong, also feeling great flavor of basil. After tasted the soup, Akitakomachi rice would be more feeling sweet, this is the benefit of eat separately.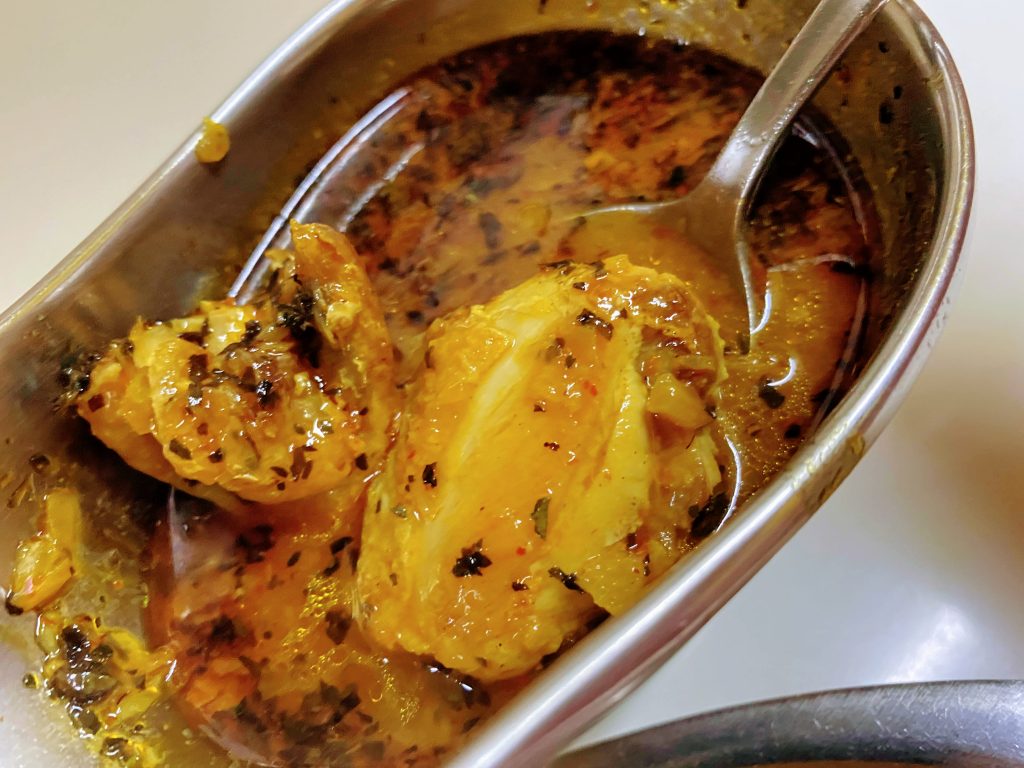 Also the chicken is well balanced and feeling sweet, good combination with the soup.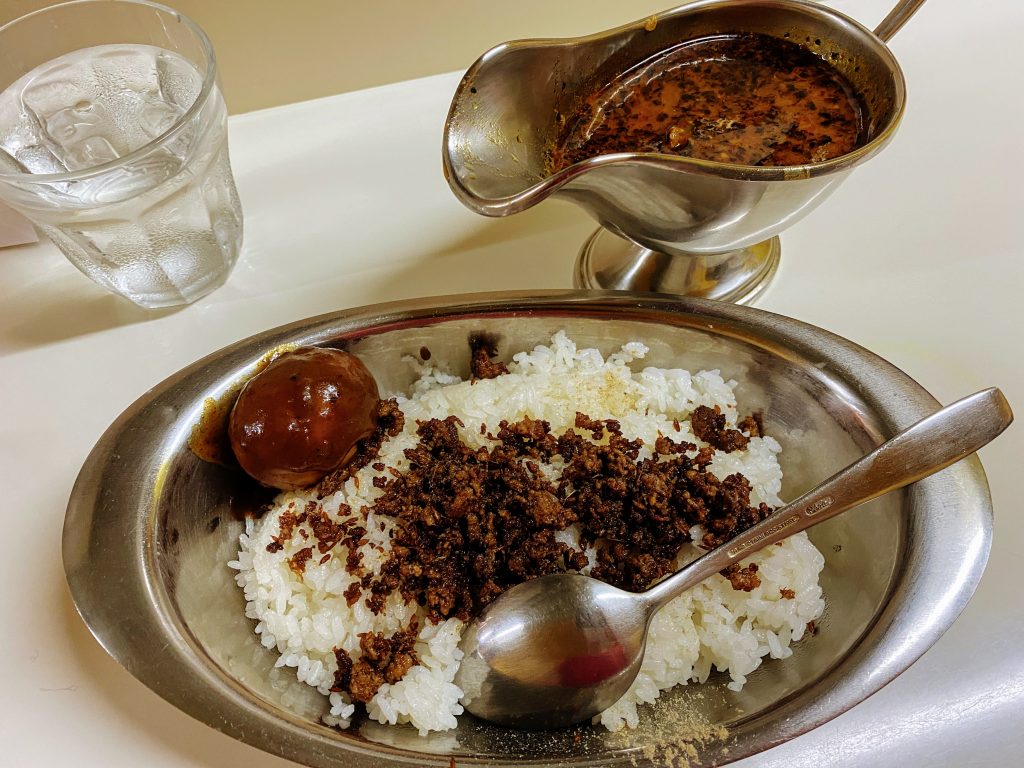 As mentioned above, the soup and rice is like a miso soup and rice, you can add curry egg or spicy minced meat if you are hungry 🙂
Basil pork soup curry with egg plant / バジルぽーく – 900 yen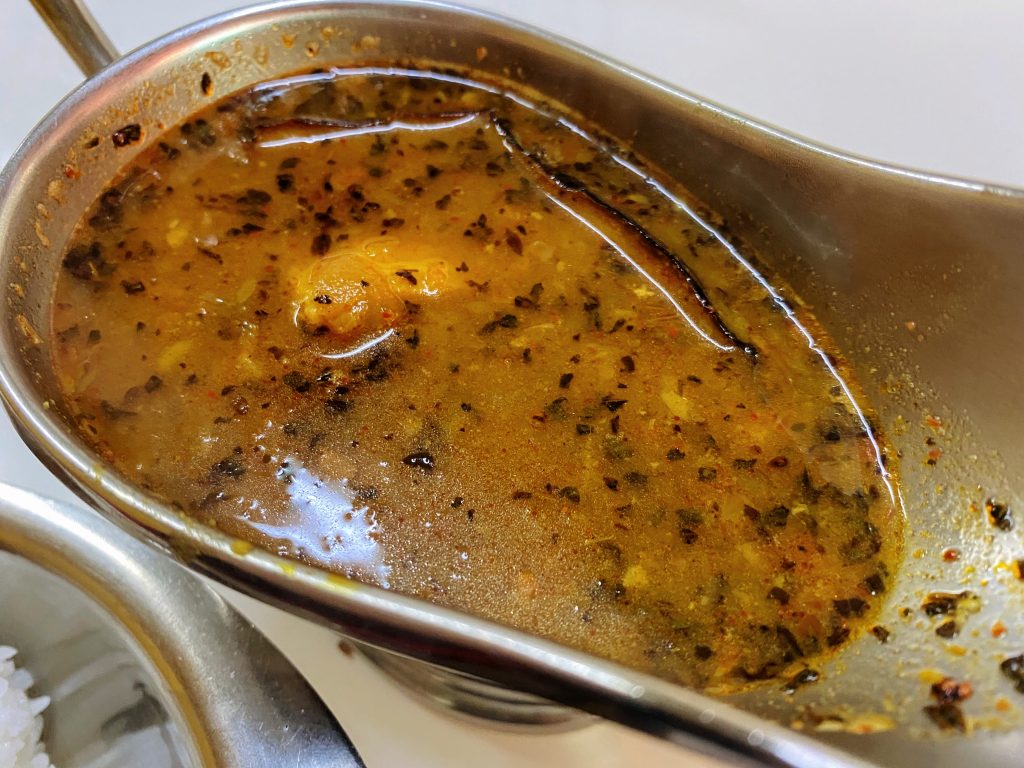 This pork soup is lighter and more fresh then Yoru curry as the garlic is less that too. As tomato is contained to the soup, feeling a little sour.
Come with grilled egg plant are sweet and great combination with spicy soup, the pork is very soft and seasoned by the curry. Also the spiciness are slightly higher than Yoru curry.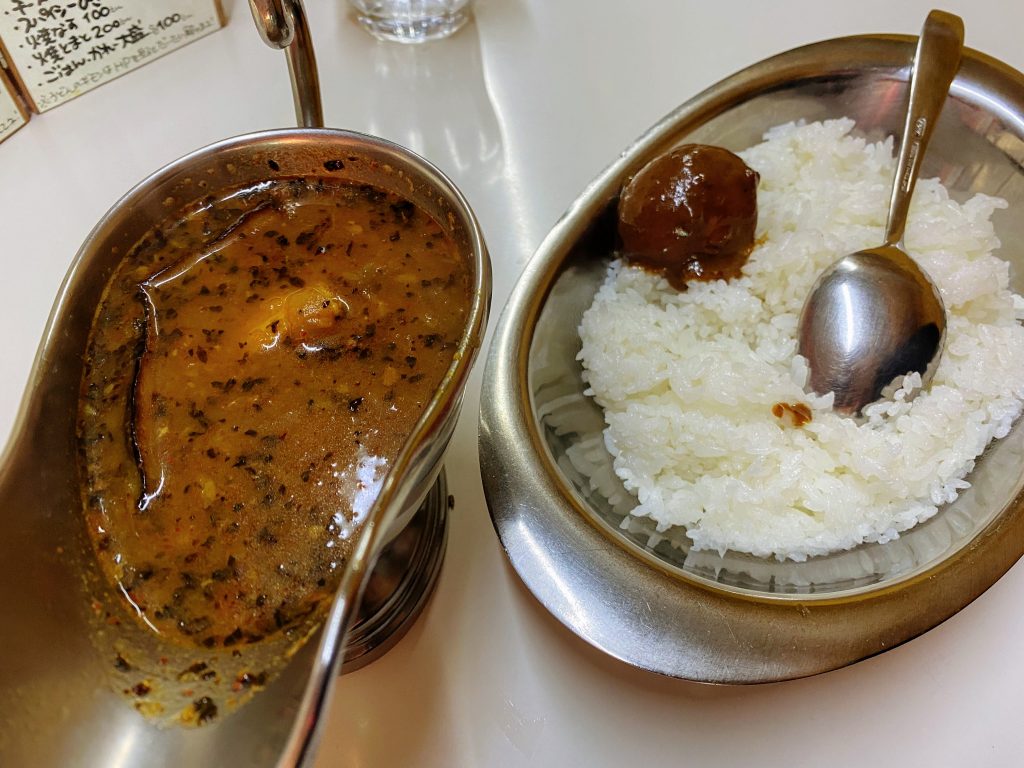 Seasonal curry – 1200 yen
*Signature every month there are special soup curry option with seasonal ingredients, especially for winter season Dec to Feb, the one is oyster curry and this is signature soup curry here, must try.
Options
As mentioned above, the optional side dish options are following. My recommendation is curry seasoned boiled egg and spicy minced meat.
Especially the egg is yummy and original one here.
Curry seasoned boiled egg – 100 yen
Cheese – 100 yen
Spicy minced meat – 200 yen
Grilled egg plant – 100 yen
Grilled tomato – 200 yen
Rice or curry upsize – 100 yen for each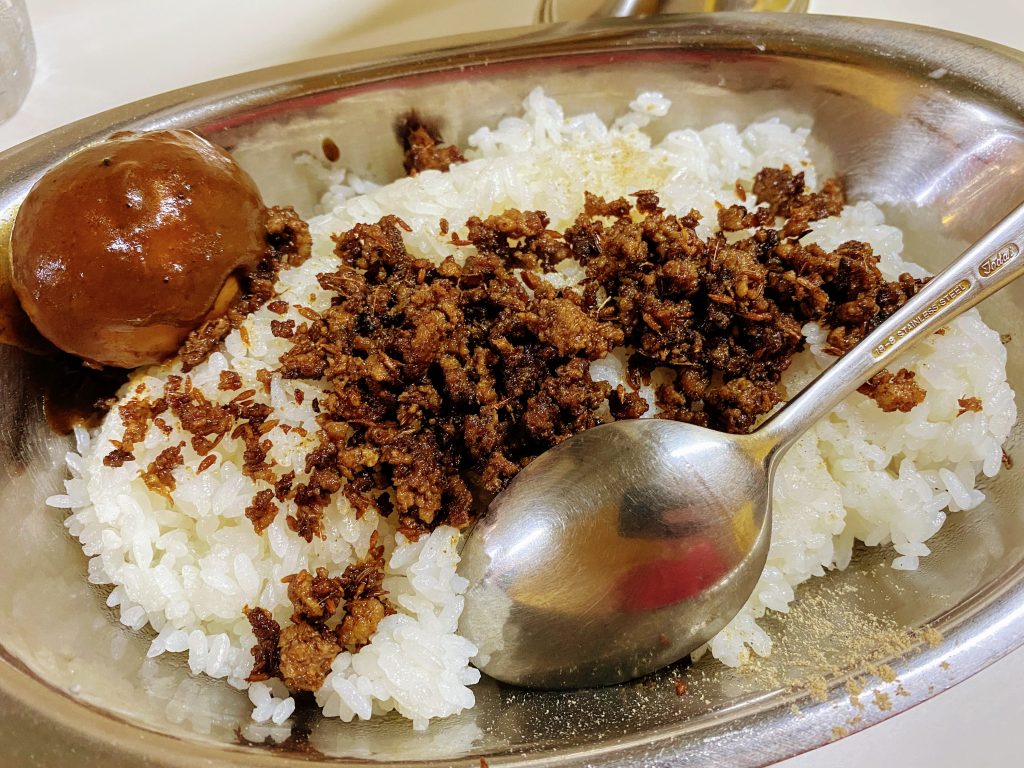 Restaurant detail
Food rating

Good for drop-in when you come near here.
Budget

~¥2,000
English
friendliness

There is no english menu here, foreigner sometimes come here. But owner chef has went abroad often, he might be able to speak English.
Reservation
or queue

There a sometimes queue in front of restaurant.
Payment by
Only Cash
Site and SNS
Web site
Any other detail
Information on Google Map