Komiyama – 誇味山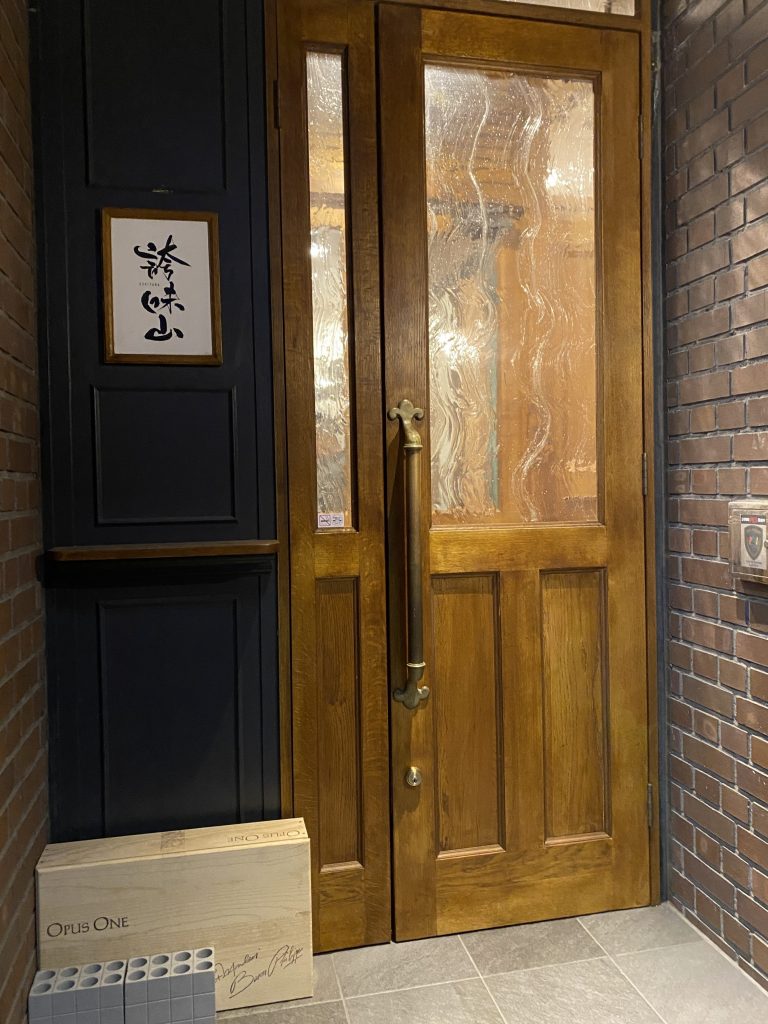 Recently many excellent yakiniku restaurant served meat with just salt as this style can enjoy original taste of beef. And tare style; seasoned by yakiniku sauce become thought as older or casual style as utilizing the same tare for every meat and the meat get similar taste.
However this restaurant dare to utilize tare for every meat, also they prepare five or six tare; salted malt, soy sauce with wasabi, sweet sauce like eel sauce and Japanese pepper, depends on the part of meat So even every meats was seasoned by tare, they make use of those tare for meats to make it as different taste.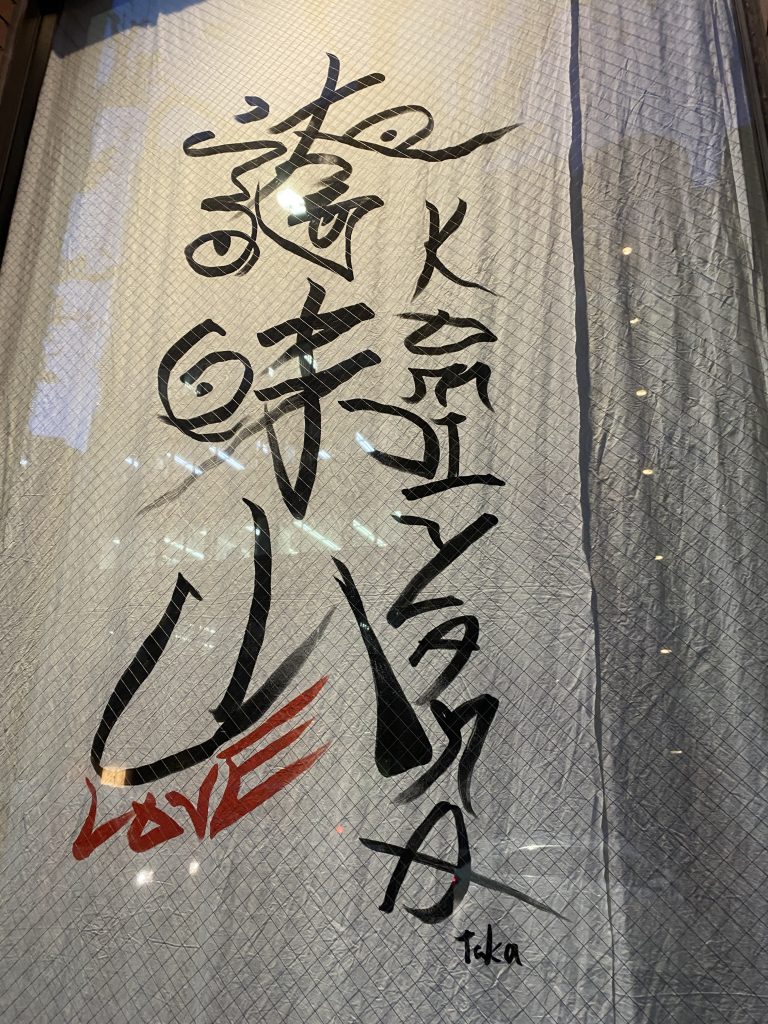 The chef Mr. Komiyama (Actually the same pronunciation of the restaurant name but differnt charactor.) has made thee restaurant; ra bouhu(ら・ぼうふ) at Youga, and Cossott'e at Komazawa and Azabu, popular. And then open this restaurant.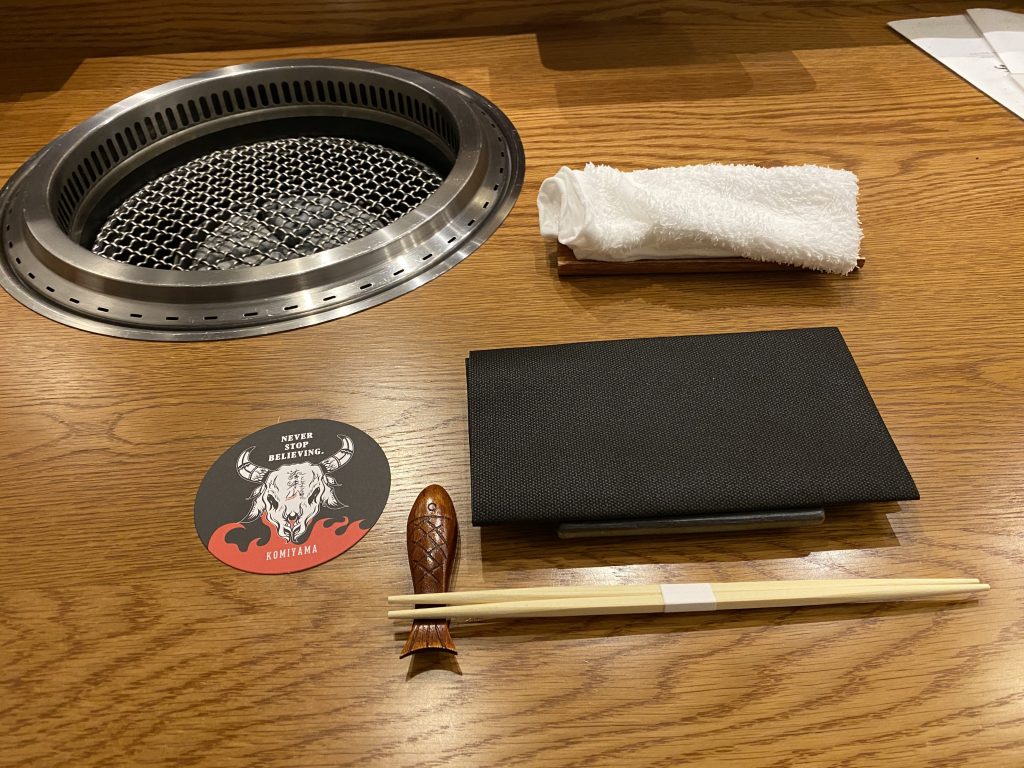 Also every meats would be grilled by staff or Mr. Komiyama perfectly, so you can fully enjoy yakiniku without spending effort to grill the meats.
Additionally, most of meat would be served with two kind of meat at the same time, this mean every plate has concept to compare the part of meat, you should remember the taste and try to compare them.
Must order
There are only Omakase course with 17,000 yen. Following are dishes on a day.
Sashimi style sirloin with egg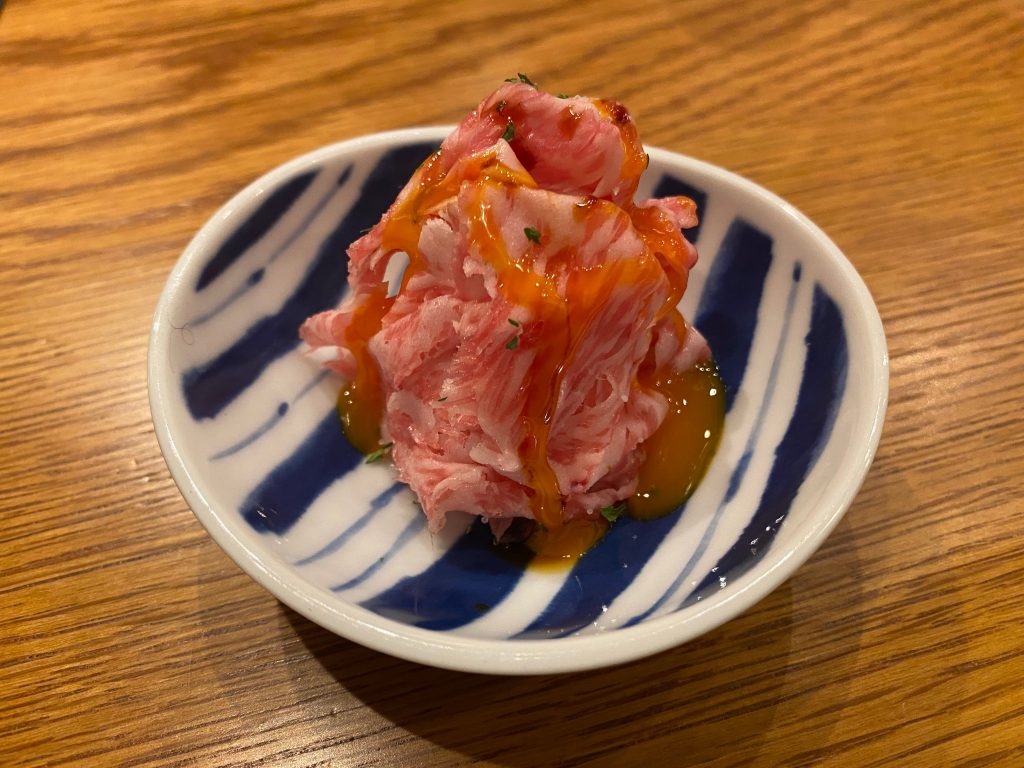 *Signature This is thin sliced sirloin with egg, the sirloin is very soft and feel sweetness of fat, perfectly marveled with fat, ambrosial.
Salad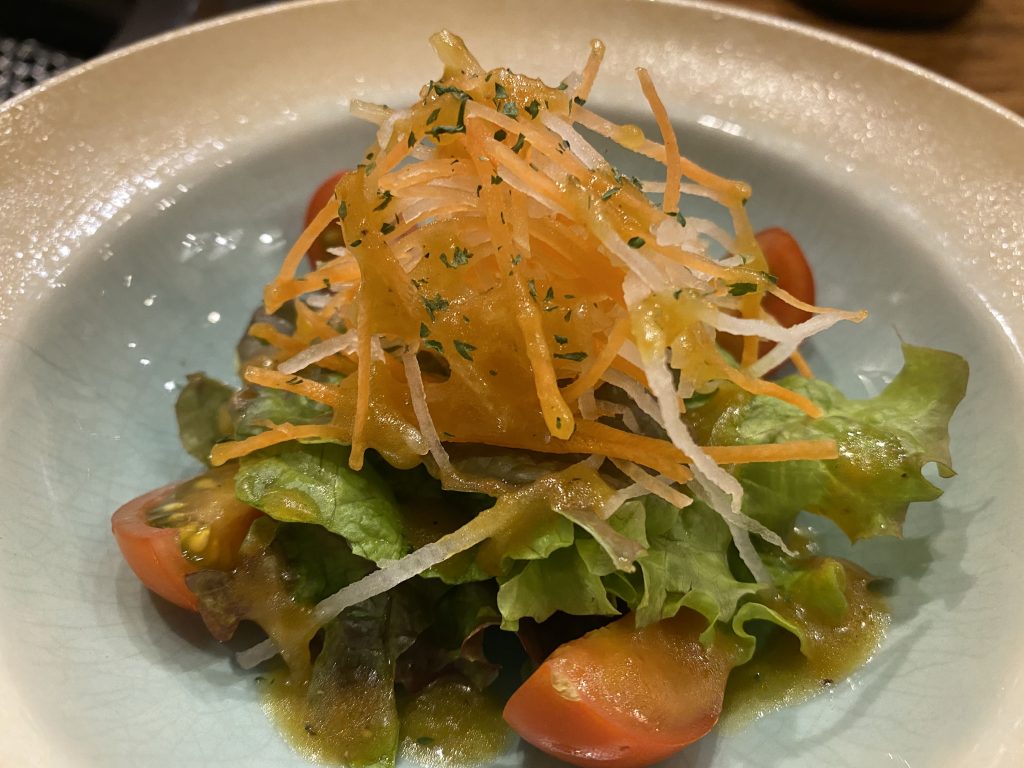 Liver
Starting meat by liver, very silky and succulent, the taste is very rich like foie gras, the tare is slightly sweet, great combination.
Tongue with salt and tare
Typically beef tongue is eaten by salt and lemon, however here you can compare tongue with salt and tare.
With salt there is no doubt the taste, the meat texture is very soft and chewy, and fat is very sweet and salt bring out the flavor.
Also with tare, there are seldom seen tongue with tare in Japan yakiniku restaurant, however this tongue is very different with the one which you eat usually, the tare is sweet, also the meat itself become more soft, you should be surprised with this.
Ochazuke with Wagu beef
Beef streaks, and soup made from a grilled flying fish stock and beef stock is very strong. The fat of sirloin starts to melt and is delicious.
Rump and Fillet – Soft red meats comparison
This is the comparison for different part of red meats, both meats are very silky, but beef juice is slightly different, feeling flood of beef juice for rump, but for fillet every bite you would feel rich beef juice.
Namul, kimchi, vegetables sticks
Hanging tender, Outside skirt – diaphragm comparison
They are both from a part of diaphragm but the place is slightly different, Outside skirt is more rich and deep taste than hanging tender, also hanging tender is simple taste as there are less fat than outside skirt.
Rump, Sirloin – Red meat and marbled meat comparison
This comparison is the best meat from red meat and marbled meat, rump are very silky and feeling beef juicy more, and for sirloin, felling strong sweetness of marbled fat. Can't decide which one is the best.
Spencer Roll and fillet sangchu style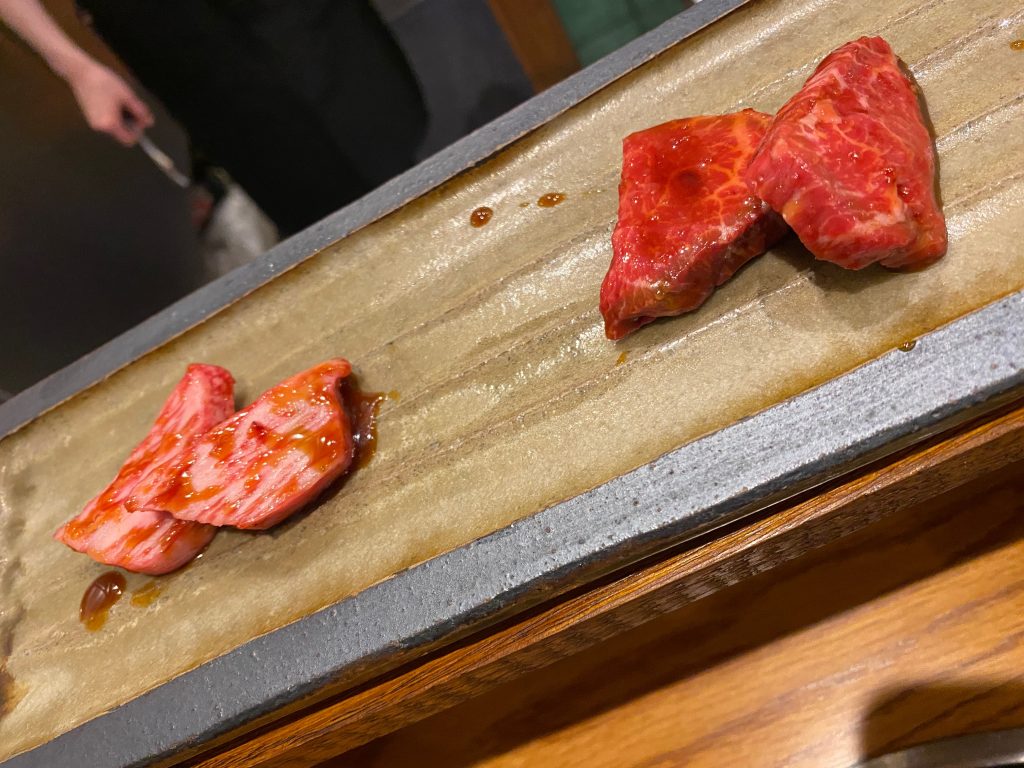 The meats, one is a well marbled and the other is red meat would be wrapped by sangchu; Korean lettuce, inside rice seasoned by chili and miso, harmonized chili, sweet and meat juice and meat fat, delicious.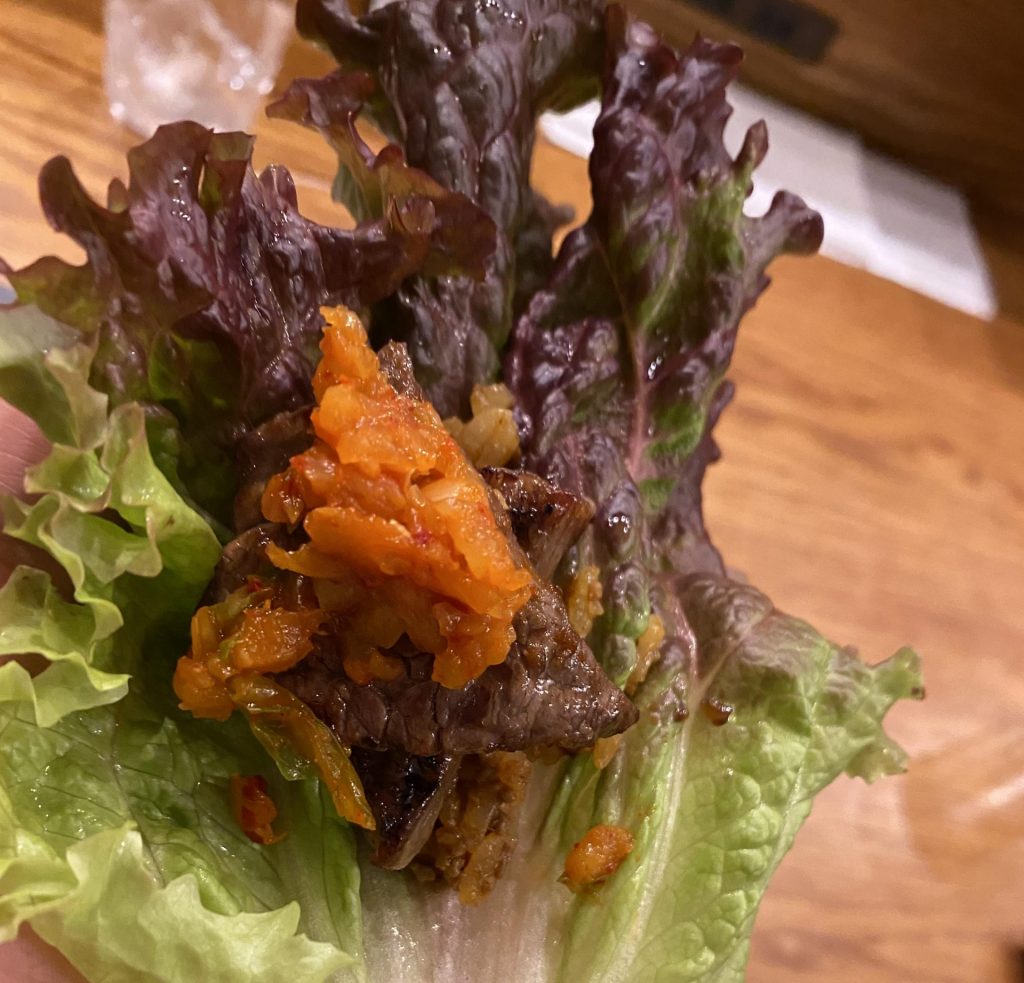 Chateau Brian on the rice
Signature* The Chateau Brian is very much soft, this can be the most softer in the meats which served on the day, also good seasoned by sweet tare, the taste looks similar with Sukiyaki.
Plain tripe
This plain tripe are seasoned by sweet miso tare, but the taste of tare is not so strong, and it is crunchy but not hard. it is difficult to grill guts, but perfectly grilled it by them.
Spicy hot dip noodle, Citrus cold noodle
You can order both of them or chose one from them.
Hot dip noodle is slightly spicy, as the noodle is slightly thick, and after crush the eggs in the dip sauce it become more sweet, this might be heavy but yummy.
In other hands, cold noodle, it is very fresh by flavor of Japanese citrus a little sour and you could refresh you mouth.
Cream cheese pudding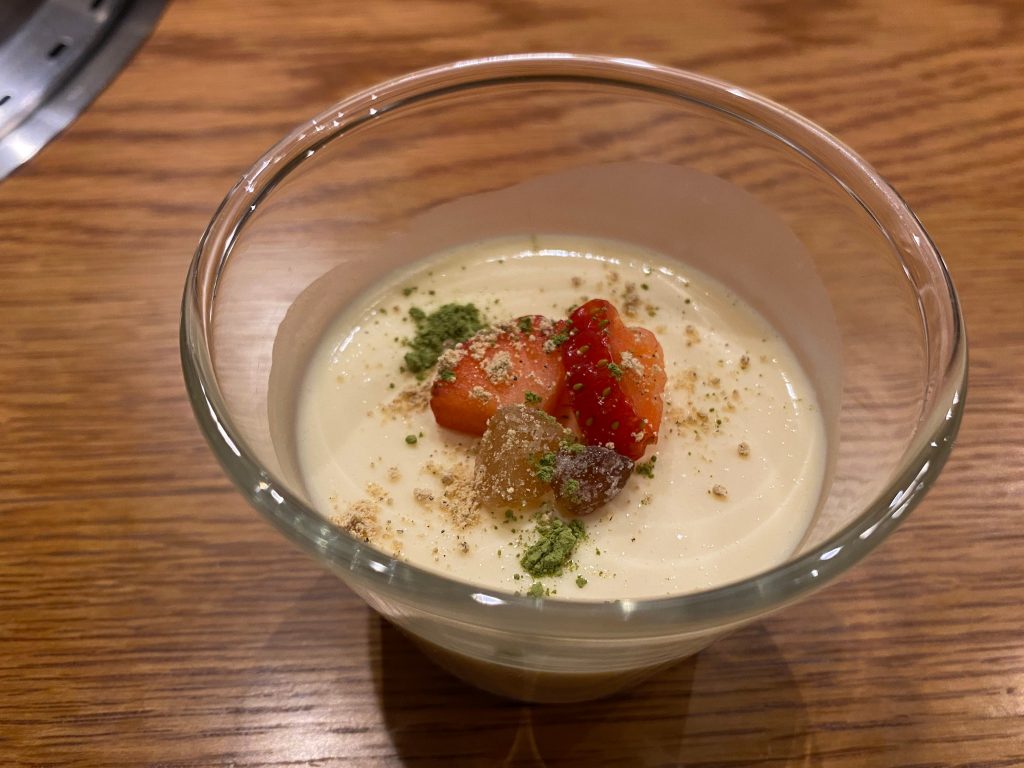 The cream cheese are very rich, yummy.
Restaurant detail
Food rating

A restaurant worth a detour, indicating excellent cuisine and skillfully and carefully crafted dishes of outstanding quality
Budget

¥20,000~¥23,000
English
friendliness

There is no english menu here, foreigner sometimes come here.
Reservation
or queue

You can make reservation by the site, it is better to make reservation three weeks or 1 month advance.
Payment by
Cash and credit card
Site and SNS
Web site
Any other detail
Information on Google Map