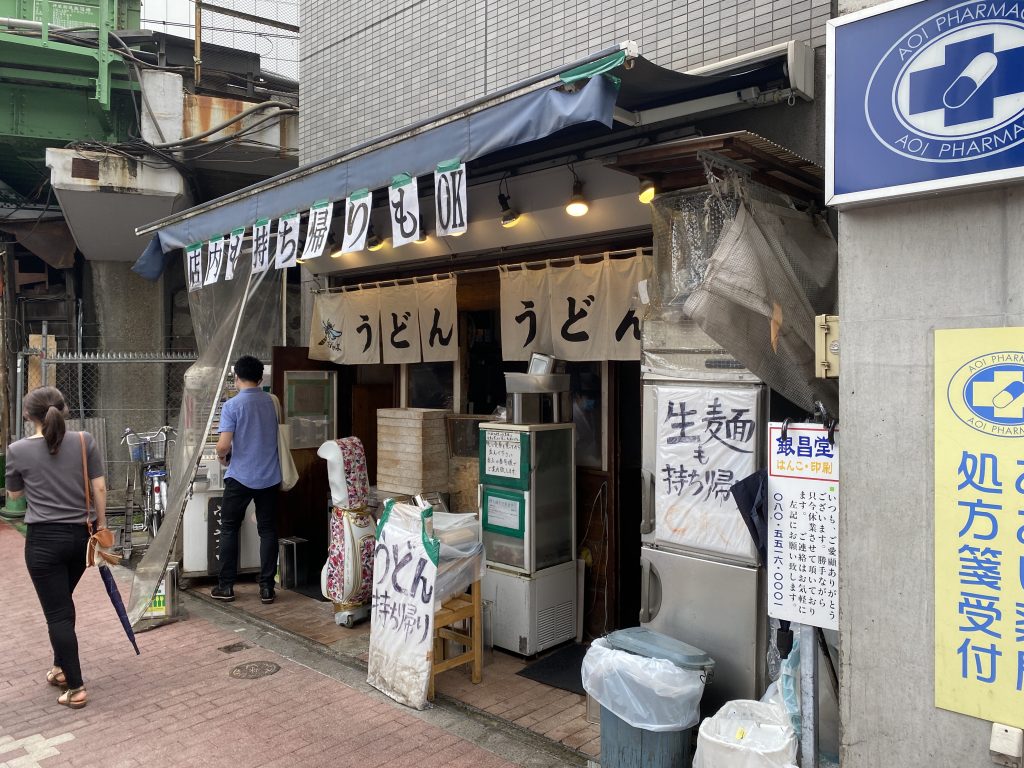 Oniyanma is a sanuki style udon restaurant at Gotanda. There are several brunches in Tokyo area, and Gotanda one is the main brunch.
The concept is "Speedy", "Low cost", "Yummy" like local udon restaurant in Kagawa where you can find origin of sanuki style udon restaurant.
To achieve above, the udon is made and cut just before served and boiled too. So the udon is very "fresh", so the udon is not hard but very chewy and feel sweet of flour.
Also ingredients; udon flour and fish for soup is delivered from Kagawa, flour is provided by Yoshihara Flour-Milling Corp which is famous and has long history since 1902 to produce flour for Udon. Also the fish for soup is utilize Ibuki Iriko from Kagawa. Also soy sauce for cold udon, they use maruo umami syouyu koikuti, this soy sauce is also the one from Kagawa too.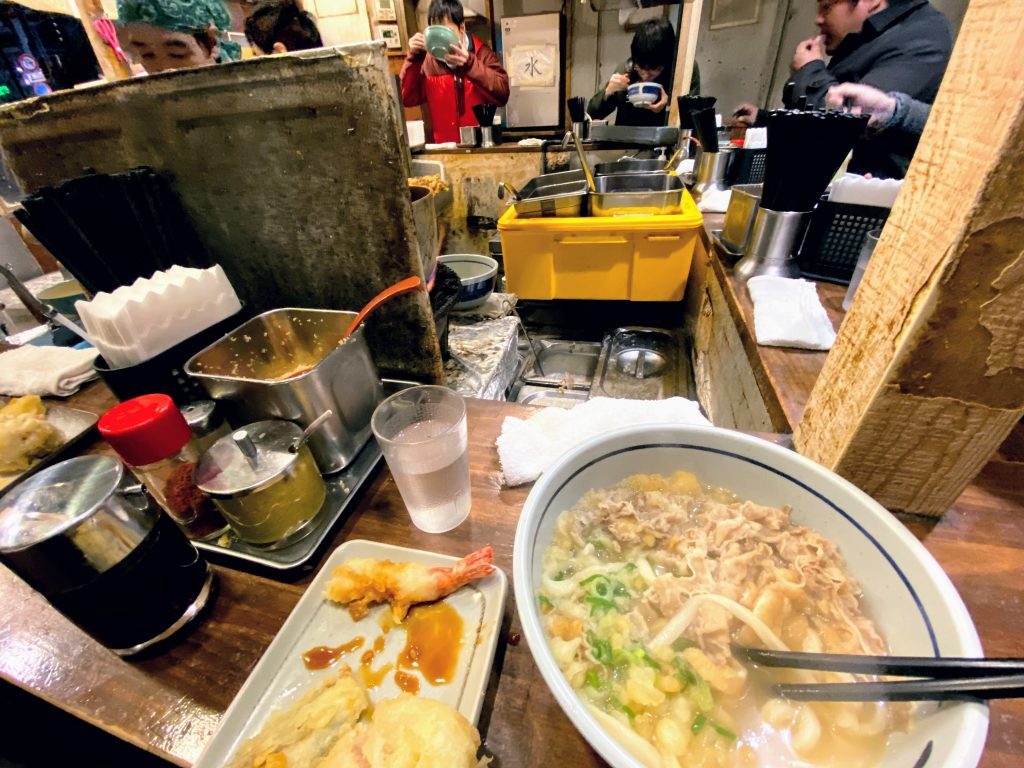 As the restaurant is very thin, The udon and tempura is cooked in front of your desk, and narrow, however this is one of the reason they can serve udon with low cost.
How to order
Always there is a queuing in front of restaurant,
1. Buy a ticket by a machine
Don't forget to buy a ticket before join the queue, otherwise you need rejoin that. After choose your option, you need confirm by a blue button of "メニュー決定ボタン" at bottom of the machine.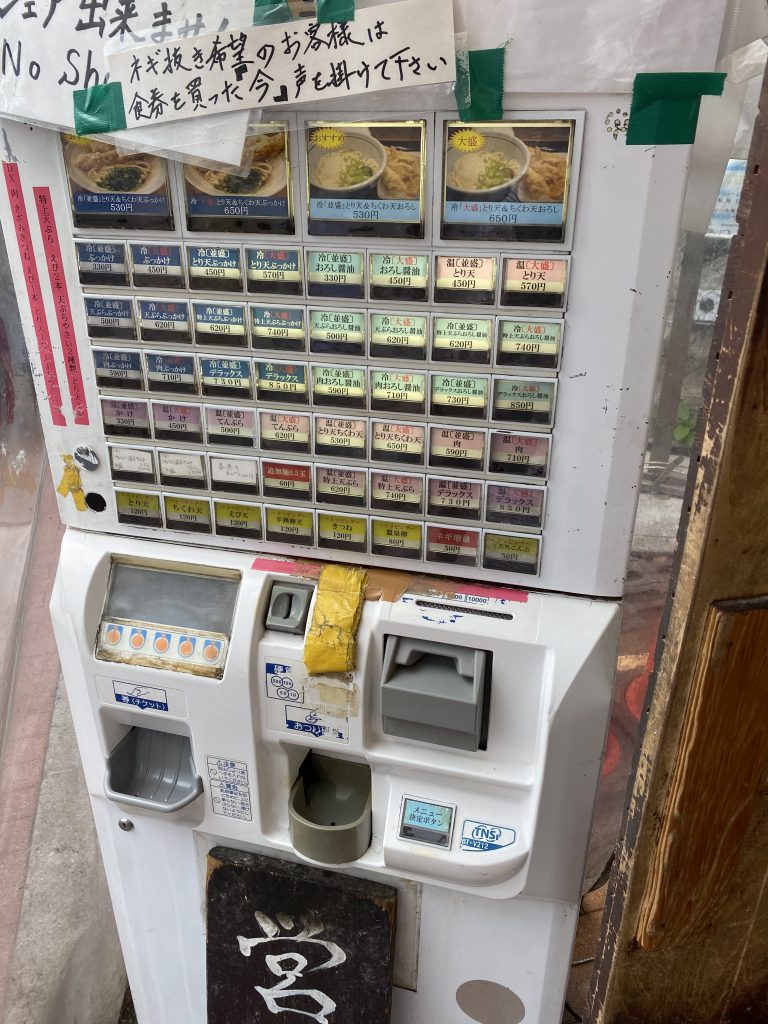 2. Wait after a Billboard in front of the restaurnt
There always queue after the billboard, even if not, it is better to wait there.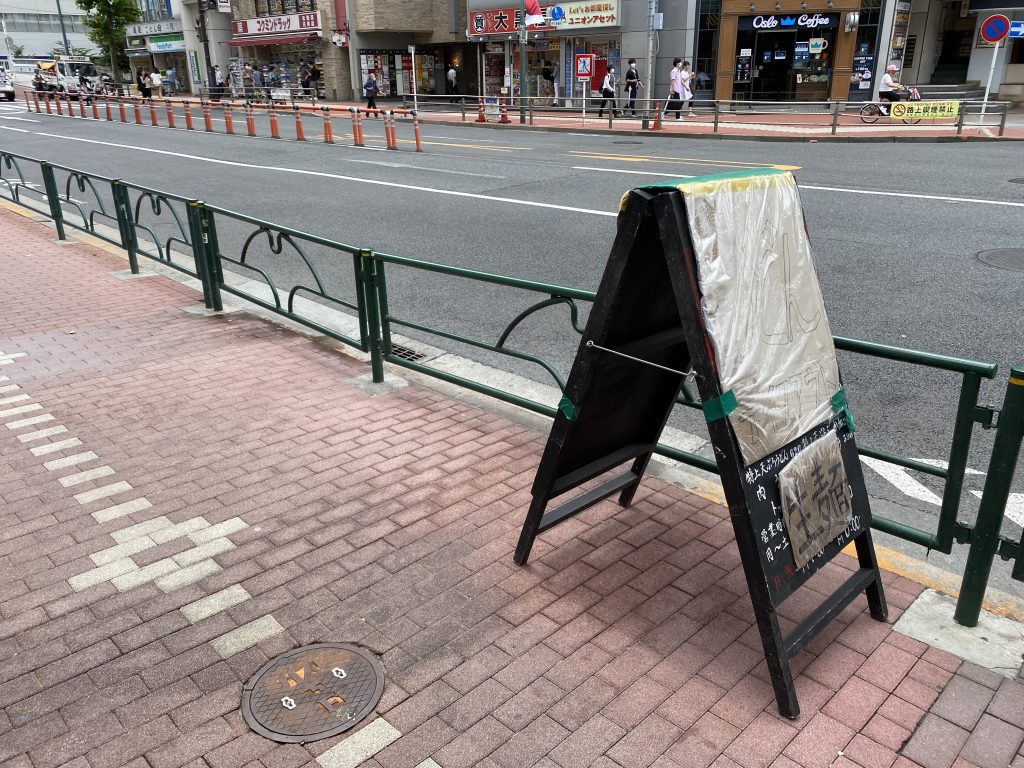 3. Wait until a staff would guide your table
Once your turn has come, a staff wold guide to your desk by oral, wait there.
Must order
Hot udon with pork belly – 温(並盛)肉 590 yen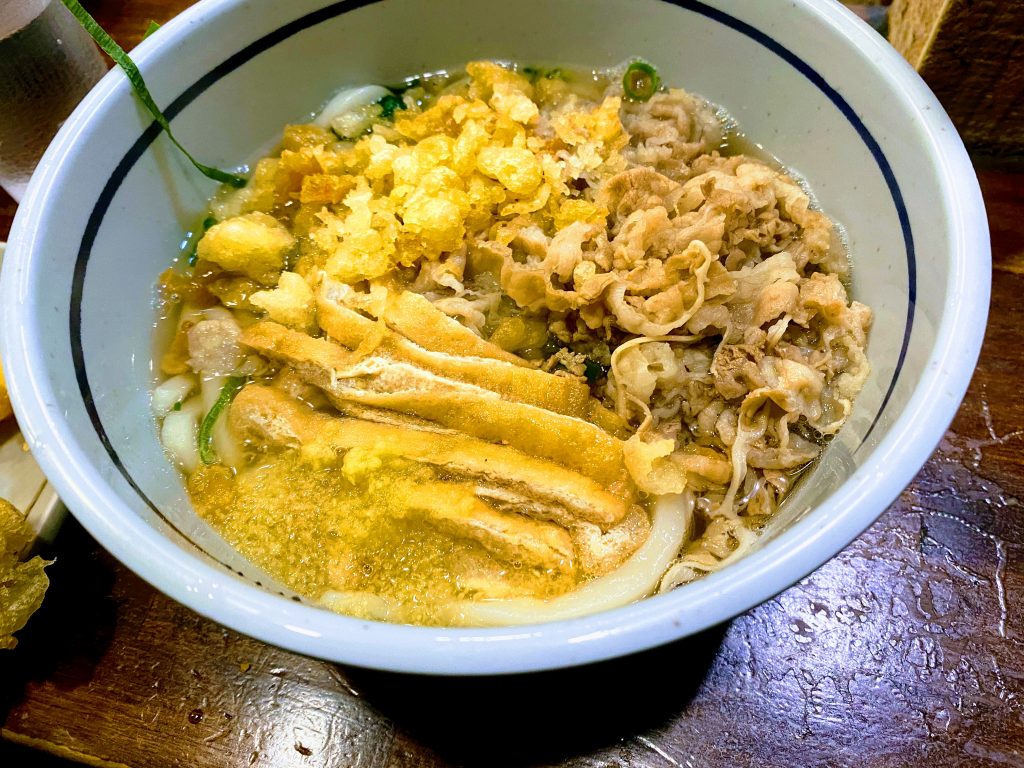 The soup of this udon is very strong flavor of Ibuki Iriko, you would feel strong taste of fish stock(Dashi) but no smell or harsh taste.
You can adjust the taste by ginger and crunchy bits of tempura crust, recommend to add both of them.
Cold udon with grated radish and soy sauce – 冷(並盛)おろし醤油 590 yen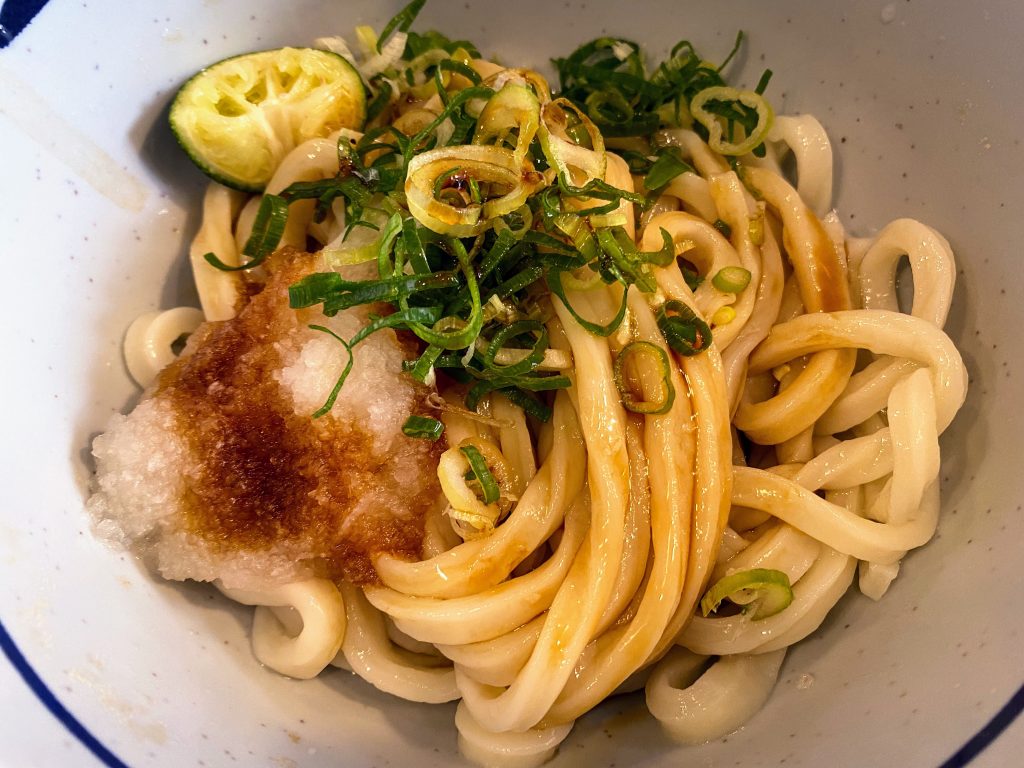 This cold udon style is unique in Sanuki style, you would pour a soy sauce on them, and mix them to eat. The taste is like Sashimi, you can enjoy the original taste of udon more.
Also sprinkle citrus sphaerocarpa, to add a flavor and add sour taste, be careful that the soy sauce is a little salty, start by small portion.
*Following bottle is soy sauce.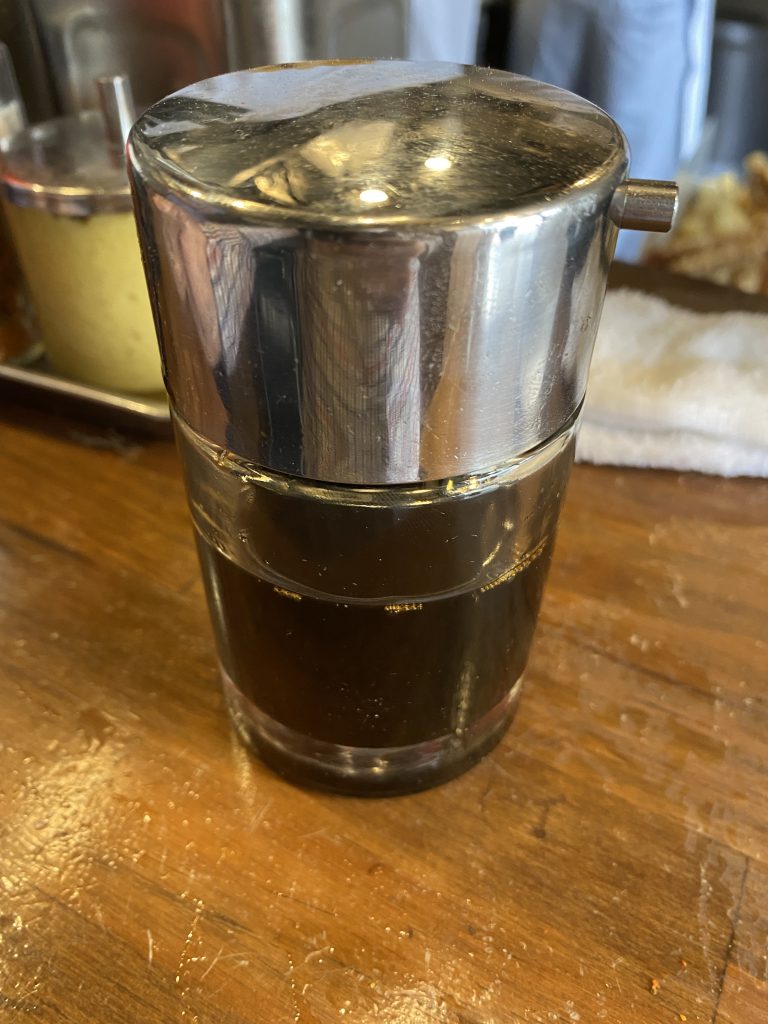 Tempura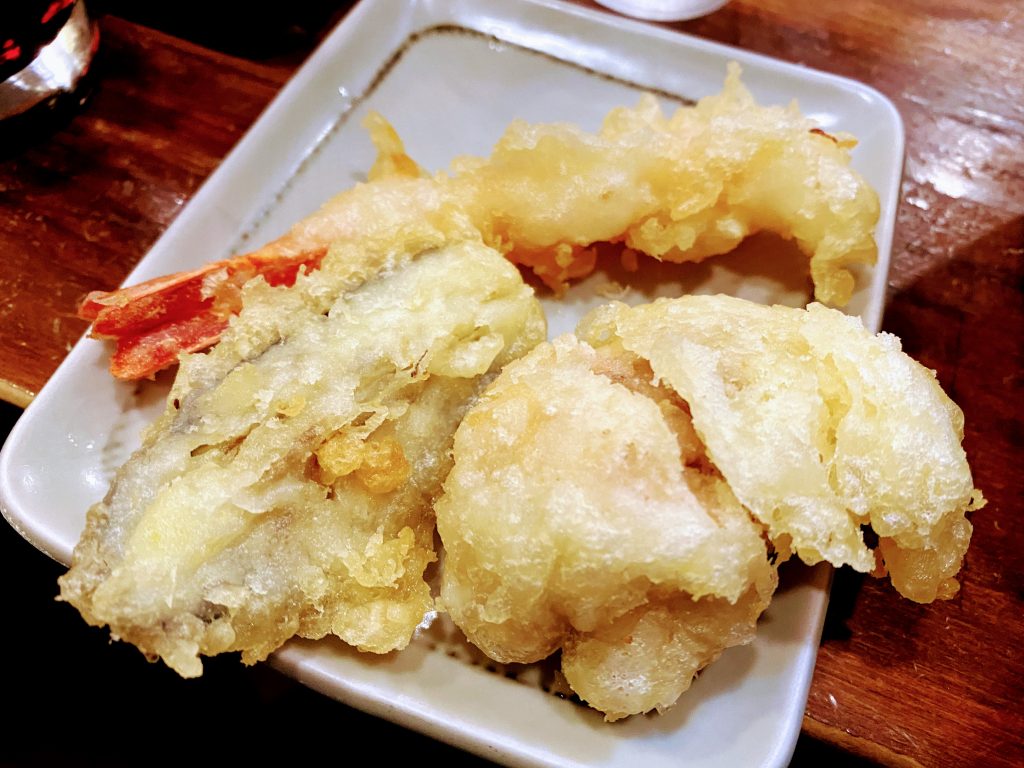 Tempura is also important factor to build sanuki style udon, followings are the set menu with tempura and udon.
For hot udon with fried chicken – 温(並盛)とり天 450 yen
Cold udon with grated radish and soy sauce – 冷(並盛)とり天&ちくわ天おろし 530 yen
Restaurant detail
Food rating

Good for drop-in when you come near here.
Budget

~¥1,000
English
friendliness

There is no english menu here, foreigner sometimes come here.
Reservation
or queue

There is usually queue in front of the restaurant for 15 mins.
Payment by
Only Cash
Site and SNS
Twitter
Any other detail
Information on Google Map