Oozeki tyuka soba – おおぜき中華そば店
This restaurant located just 5 mins working from Ebisu station.
There are three kind of soups available here; dried small sardines soup(煮干し), chicken stock stop, Slow-cooked chicken broth(鶏白湯), and typical soy source. And every soups are great quality.
Dried small sardines soup(煮干し)

Most popular soup here, strong flavor of fish stock and a little salty.

Chicken stock stop, Slow-cooked chicken broth(鶏白湯)

Based on chicken broth and adding pork broth too to make it more richer.

Typical soy source

Simple but well balanced soy source and chicken stock.
Also ramen here are monosodium glutamate free, typically it is difficult to make a good soup without monosodium glutamate, but the soups here are very rich and well balanced.
Must order
Dried small sardines soup ramen – 煮干しラーメン 850 yen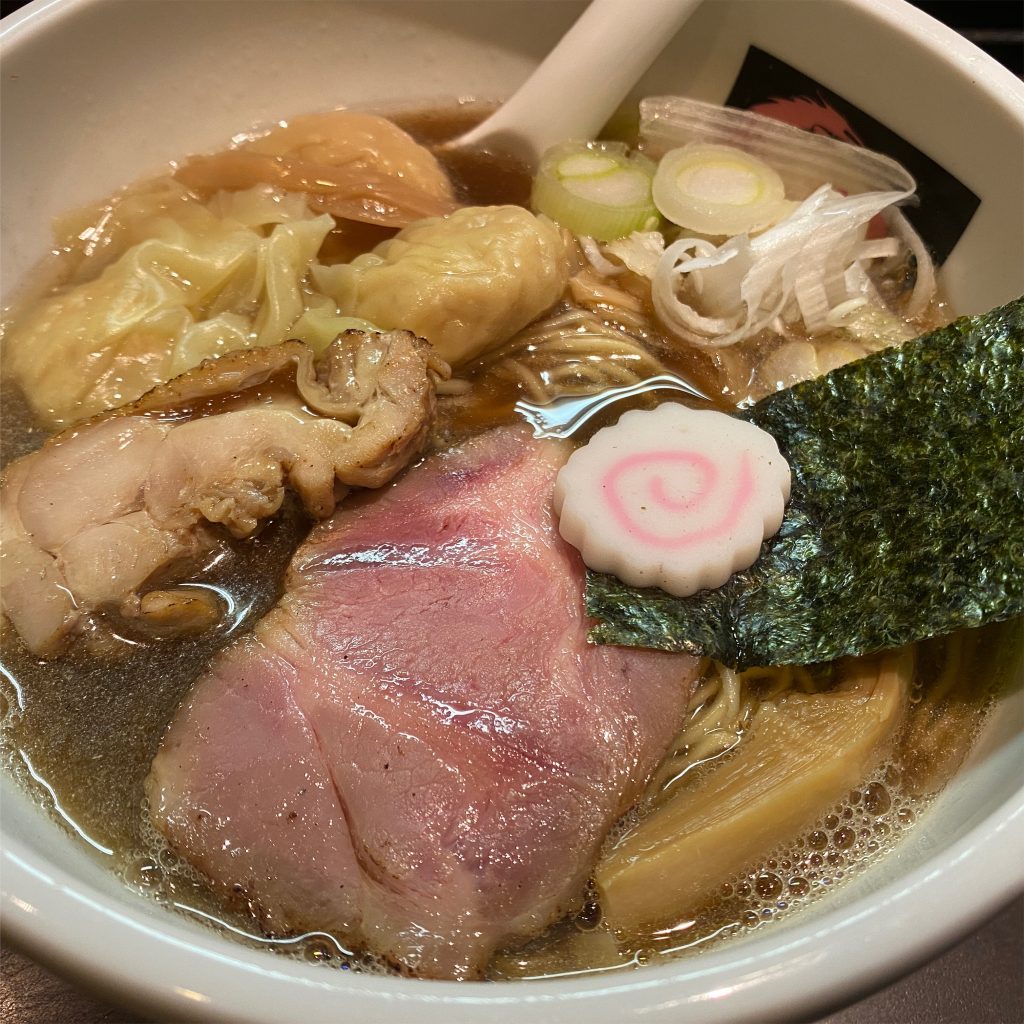 The soup is mixed with three kind of stocks with dried small sardines and a little chicken stock, anchovy, hirako, and urushime. The flavor of sardines are very strong but don't feel bitterness or other unpleasant taste. Saltiness are a little strong.
As the technique of soup making, the dried small sardines added to cold water and wait a while, then it warm slowly, so that the taste of sardines moved into the soup well. Also the black color of the soup is from dried small sardines, so it is evidence they use a lot of dried small sardines to make the soup, that's why the soup is very rich.
Both chicken meat and pork meat are on the soup, chicken one is added a flavor by smoke, and pork meat is chewy and feel natural sweet of pork fat. bamboo shoots are used only part of head, this portion is softer and sweet.
Restaurant detail
Food rating

Good for drop-in when you come near here.
Budget

¥1,000~¥2,000
English
friendliness

There is no english menu here, foreigner sometimes come here.
Reservation
or queue

No reservation here, and there is 15 mins queue in front of restaurant.
Payment by
Cash and credit card
Site and SNS
Twitter
Any other detail
Information on Google Map