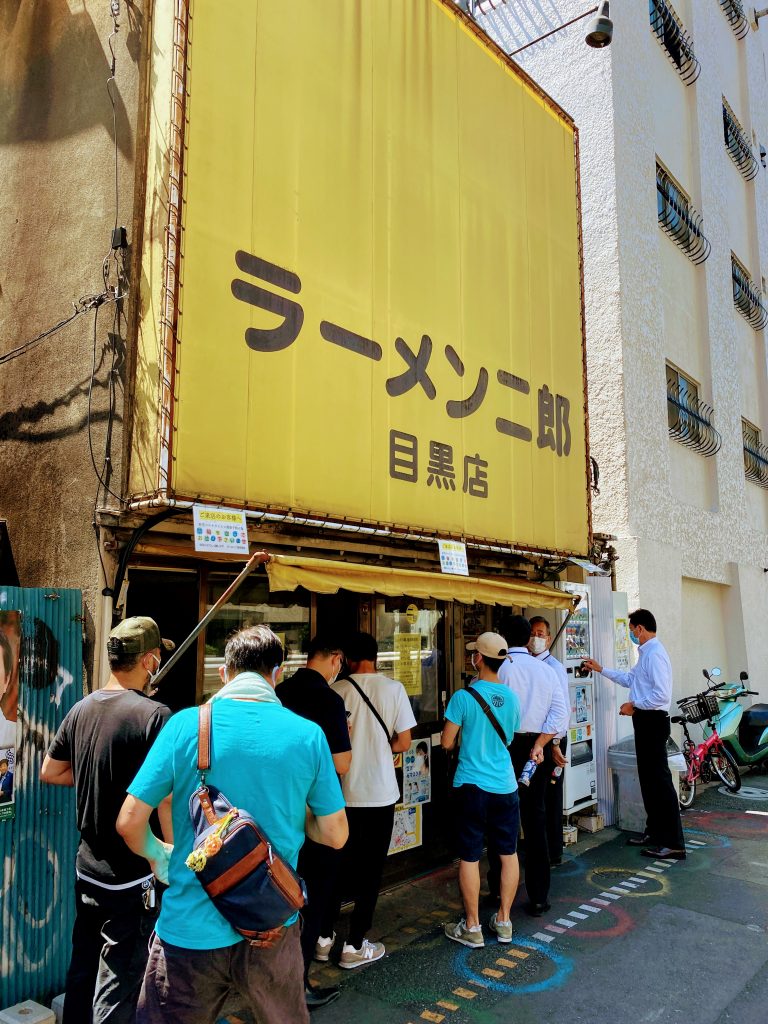 Do you know Ramen JIro? Ramen Jiro is a legendary and very unique ramen restaurant in Tokyo which is known as a very Junk food. Not only too much salty and oily, but also amount of vegetable and noodle, this must be unhealthy. The taste is very strong and the taste choose a person very much. Not always be thought as tasty food, but sometimes someone become junkie of Jiro ramen.
This ramen jiro is nominated in "The 50 best things to eat in the world, and where to eat them" by the Guardian as follows.
"People in Japan always say ramen (Japanese noodle soup) can't be this and can't be that. Ramen Jiro is very non-traditional, in your face, take it or leave it. You either love it or hate it, but people who like it are good people. It's got pork, it's got cabbage, it's got garlic, and the sauce is sweet. It's gnarly. There are several branches; my favourite is the one near Keio University."
As I have shared the experience with to go option too, please refer to about to go option for ramen jiro (Nabe jiro)
Here meguro brunch is the first brunch of Ramen jiro, the price is still has not been increased as 500 yen for normal ramen.
Must order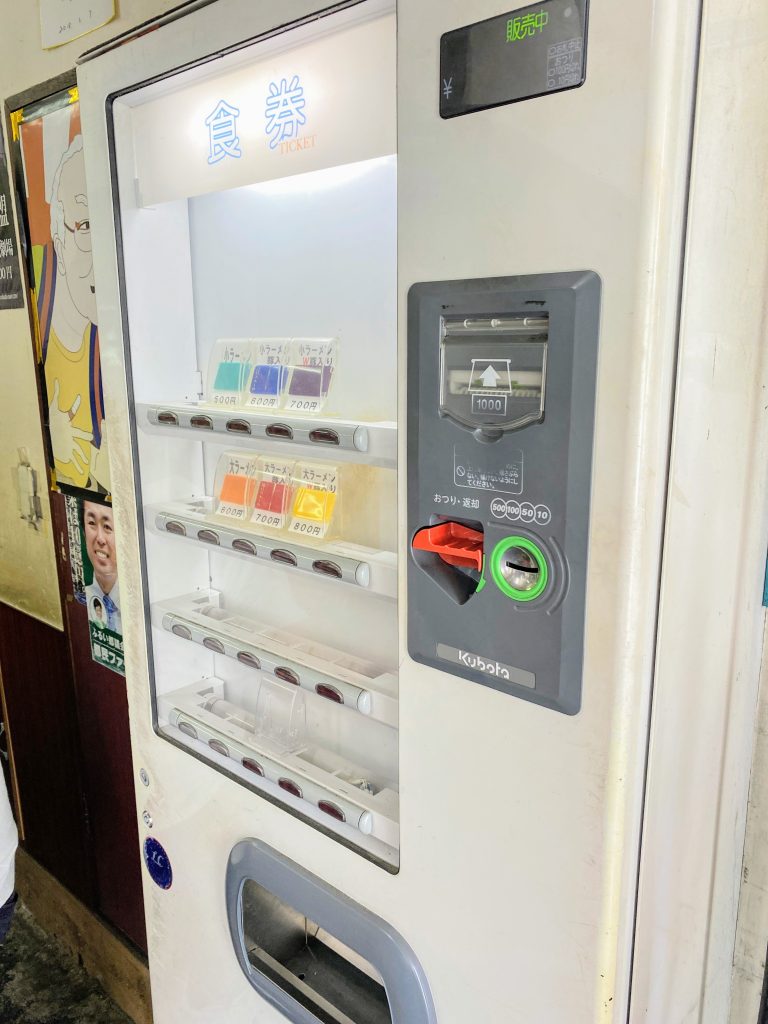 At jiro, you should follow an unspoken rule, otherwise the owner chef is strict person, you might be scolded.
Join the queue in front of the restaurant
Become around 5th in the queue, but a ticket by the machine of above picture, the options are following, my recommendation for you is to chose 小ラーメン豚入り, additionally you don't chose large ramen as normal ramen is still so huge enough.

小ラーメン:normal ramen
小ラーメン豚入り:normal ramen with braised pork
小ラーメンW豚入り:normal ramen with double braised pork
大ラーメン:large ramen
大ラーメン豚入り:large ramen with braised pork
大ラーメンW豚入り:large ramen with double braised pork

Back to queue, when staff would confirm the ticket, show it to them.
Get to seat, if some one has left, and wait until they said "Nin niku ire masu ka?", this means "would you want to have garlic on top?" If you want answer yes, or you can ask some more with answering following.

Yasai mashi nin niku : more vegetables on top with garlic
Niniku mashi : more garlic on top
Karame : more salty
zen mashi : more vegetables, more garlic, more salty(all more)

After a while, your ramen would be arrived, eat it.
After finished, bring the bowl up on the shelf, clean up with the towel.
Small ramen with braised pork / 小ラーメン豚入り 600 yen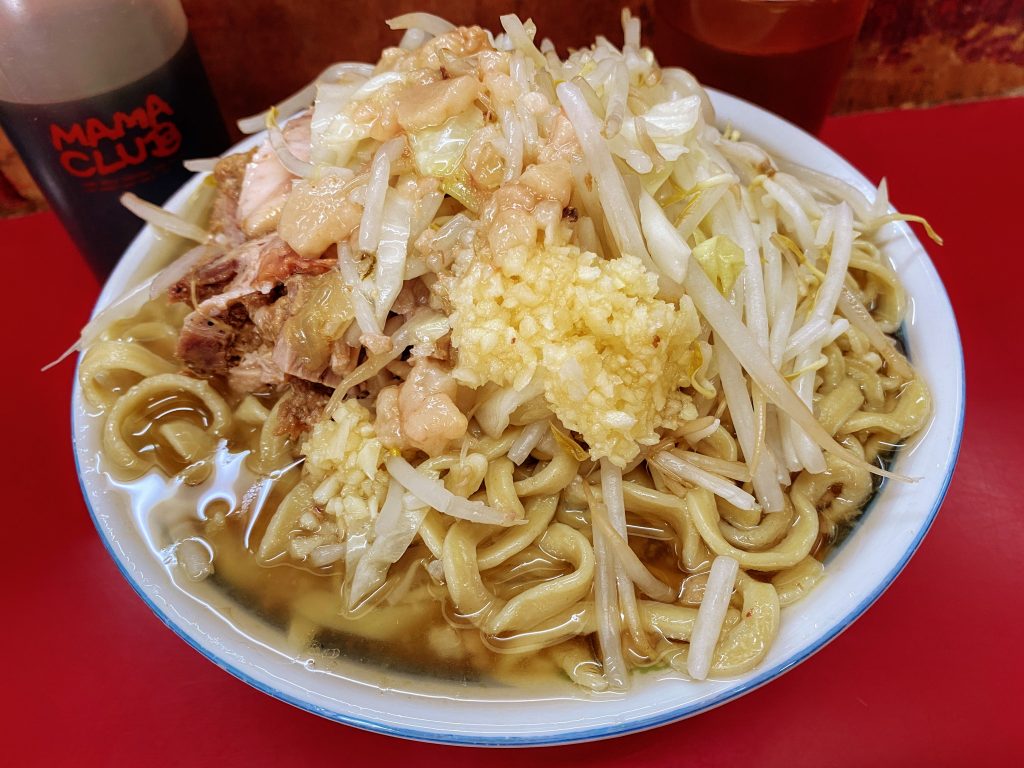 The style of ramen jiro is similar to main brunch of ramen jiro, only one meny with size and size of braised pork are available, and the soup is not emulsified.
The portion is smaller than other Jiro ramen restaurant, so this restaurant might be good option to try Jiro ramen first.
The noodle which made by ocean flour which contains more protein than typical flour, so the noodle become more harder but with great flavor of flour and texture of slightly chewy.
Also soy sauce is mixed with sweet cooking sake, still very salty but it is savory with sweetness, they are not so deep taste but simple with flour and noodle texture, rich soy sauce, but this is the Jiro ramen.
Restaurant detail
Food rating

A good place to make a dinner plan in your journey.
Budget

~¥1,000
English
friendliness

There is no english menu here, foreigner sometimes come here.
Reservation
or queue

No reservation, there are around 30 mins queue in front of restaurant.
Payment by
Only Cash
Site and SNS
Web site
Any other detail
Information on Google Map